More News
Don't be Wacky: Jumping for Jellybeans
Posted by Slappy on February 19, 2014 at 2:00 PM
HELLLLOOOOoooooo~ Toontown!
Slappy the duck here, back again for some more wacky (The good kind of Wacky!) adventures with you jolly good fellows. So jolly good, that you are in fact reading this in a British Accent now that I've said it. News flash: I'm not even British! That's the power of writing there. Works wonders for creativity. Blackmail, too!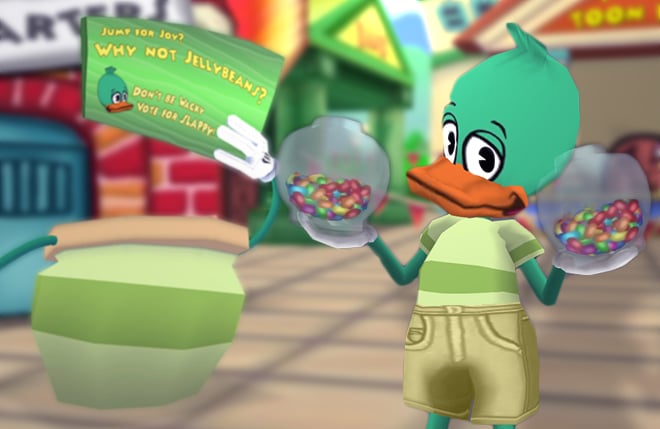 Now, I've got to stand up and warn you that I'm not here to bring you anything exceedingly over-the-top today like Flippy's pie fights, (I'm more of a snowball guy.) however I'm doing that not for myself, but for you! I actually had some really great ideas written out, but I've decided to push those off until one of my other campaign dates because of everyone who keeps wanting to know more about my
quackingly
charming self. I should also warn you that when I start talking I just can't stop, so this post is going to be quite a big read.
Flippy started his off with some activities and saved the explanation for later, but that doesn't make for a good vote if you don't know anything about the guy. (Flippy is a great toon, mind you! I say that from actually knowing him.) I didn't want the same thing to happen with myself, so I figured that you toons were more interested in who I am rather than what toys I'm going to try and win you over with.
ONWARD, to the explanation!
As most of you know: I'm Slappy! Not Slap-happy, Sloppy, or Slappie -- but Slappy. I came around to start meeting toons while you guys were out having your holly-jolly ho ho ho's in the snow. I started out by turning toons into
Polar Bears
for the Christmas Season, then came back a few days later after I saw all of the glum toons staying inside because of the blizzard. Boy, did we turn that around! We started
The First Annual Great Toontown Snowball Fight
, which I'm sure will be even better in years to come. Heck, I know for a fact that I'll be back next year to host that amazing event -- election or not! I'd have to go completely sad to stop me from doing that!
Speaking of being elected, I've been putting some thought into it lately. One thing that I've really wanted to see is a home for the black and white toons of the Tooniverse. I'm not talking about Polar Bears or Black Cats, but our ancestors who brought us to where we are today. They never get any credit anymore, you know? Time has made them forgotten, and that just isn't right. Toontown should be a place for everyone! I definitely want to open a new Playground for those guys and gals. Granted, there is nothing stopping them from moving in now, but you know how those old toons are. They like living in their old sets. I really want to build them their own black and white Playground, open to everyone. They deserve better than to be forgotten. I know that I wouldn't want to be forgotten if some sort of high-definition cartoons are drawn in the next decade.
But hey, enough of my rambling. I go on expressways of thought like that sometimes, so feel free to tell me to keep my yap shut! Just can't stop talking. Ha! Let's move on to some more lighthearted manners: some things I've decided to share with you!
Surprise!
I really did get you guys something. I noticed that Flippy has been "Busy Baking" for a while, which got me thinking. Why don't I do some banking? No, I didn't sit in a room and file tax reforms.
I've been banking by separating my Jellybeans to share them with all of Toontown!
But hey, listen: This doesn't mean I'm giving you Jellybeans, that's just bribing for votes, and that isn't right. What I want to do is give you Jellybeans to give to your friends and the other citizens of Toontown to try and clean up our act. We're toons, and we should share. From your SpeedChat menu, I've given everyone four Jellybean phrases that will give 100 Jellybeans to all of your friends around you. It may not be quite as exciting as a pie fight, but I'm saving the excitement for later. Actually, I've included two other phrases, too: Pie restocking phrases! I know that you guys are all having tons of fun with Flippy's pies -- Heck, even I enjoy a good pie fight every now and then! To help you out there on the battlefield, just use your Pie Restocking phrase and everyone around you will get their ammo replenished. Don't use it all in one place, though! You don't think that I got all of these Jellybeans by spending them all at once, did you?
Thanks for taking the time to listen to me ramble, and hopefully you've learned more about me! I'll be running around Toontown for the next few days to answer any questions you have as well as to get to know everyone.
That wraps everything up, I believe!
Remember: Don't be Wacky - Vote for Slappy!
February 19, 2014 [ttr-alpha-gc1aac77]
Bugfixes:
• Fix an exploit allowing toons to get into under construction areas

Features:
• Added a couple of new SpeedChat election phrases
• Slappy's campaign is ready and going strong!



• Repaint Slappy's stand sign
• Fill up Slappy's stand with a bunch of Jellybeans to give to others
• Distribute "Unites" out to the citizens of Toontown. Four Jellybean unites and two cream pie unites. Don't spend them all in one place!




---
Comments
Sorry! Comments are closed.
---
---
---
---
---
---
---
---
---
---
---
---
---
---
---
---
---
---
---
---
---
---
---
---
---
---
---
---
---
---
---
---
---
---
---
---
---
---
---
---
---
---
---
---
---
---
---
---
---
---
---
---
---
---
---
---
---
---
---
---
---
---
---
---
---
---
---
---
---
---
---
---
---
---
---
---
---
---
---
---
---
---
---
---
---
---
---
---
---
---
---
---
---
---
---
---
---
---
---
---
---
---
---
---
---
---
---
---
---
---
---
---
---
---
---
---
---
---
---
---
Back To Top