More News
The Toon Council Presidential Elections
Posted by Alec Tinn on February 15, 2014 at 2:00 PM
Come one, come two,
COME ALL
to the most important event in the history of our fair town:
The Toon Council Presidential Elections
!
Before I start out, I suppose I may introduce myself! My name is Alec Tinn, and I'll be the host of this Toontasticaly wacky event. I could write a whole book about myself, (And it would be quite possibly be the greatest book ever written!) but that's not why you're here. You're here to hear about the two toons running in this election:
Flippy
and
Slappy
!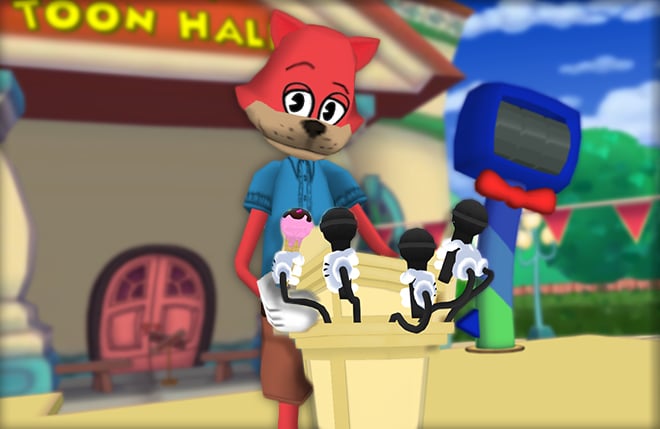 As you all know, these two toonerific toons have been chosen by none other than Mayor Mickey himself as candidates to run the newly-established Toon Council, which will take care of Toontown while Mickey is working on his movies. It's hard to be both a Movie Star and a Mayor, you know!
Now, Mayor Mickey has left it up to
YOU
to decide which of these two colorful candidates gets to lead Toontown. Not you personally, but you as in the general population. In fact, you don't even have to live in Toontown! Mayor Mickey has declared that toons far and wide may participate in the vote, as many of you may be moving into Toontown when we open our gates to all.
Mark your schedule and check your calendars, because you are definitely going to want to be here on
March 1st at 2:00PM Toontown Time
for this
one-time only event
! Our cameras will be recording and livestreaming the event right here for those of you who are unable to make it, however you really, really,
really
don't want to miss this event. We've got a ton of fun and games in store, along with the announcing of our future Toon Council President, of course! We're making history here with the most important day of Toontown's history, and the most exciting event in years.
What do we do for the next two weeks, you say? The troops are still away working on some sort of battle system, so we won't have them around to keep up with the Daily Updates. I'll tell you what we do have, though:
Intense competition!
I've seen that Flippy and Slappy have begun kicking their campaigns into high gear, and both of them even started working on their stands in Toontown Central. To keep things fair, every other day for the next two weeks either Flippy or Slappy will be here to keep you occupied, as well as let you learn more about them to pick the best candidate.
In the meantime until those campaigns start on Monday, head over to Toontown Central and check out these fabulous decorations the Troopers and I have been putting together. If you stop by at the right time, you'll probably see me running around there to answer any questions you may have. For now I must bid you all ado, but this is far from the last time you'll be seeing me.
Remember:
Voting begins on Friday, February 28th
and the winners will be announced at
2:00PM on March 1st
. Don't miss it!
February 15, 2014 [ttr-alpha-g2e18480]
Maintenance
• Implement full framework for the upcoming event we talked about: The Toon Council Presidential Election
• Major backend code rework in preparation for the event
• Clean up log files to be a bit niftier

Features:
• Chatter of the election is all abuzz with shopkeepers and toons far and wide talking about it. Who will win?
• Toontown Central is fancier than ever with new props for the upcoming election.
• Flippy and Slappy stopped by to get a head start on setting up their campaign stands. They'll be sure to make use of them in the upcoming days!

---
Comments
Sorry! Comments are closed.
---
---
---
---
---
---
---
---
---
---
---
---
---
---
---
---
---
---
---
---
---
---
---
---
---
---
---
---
---
---
---
---
---
---
---
---
---
---
---
---
---
---
---
---
---
---
---
---
---
---
---
---
---
---
---
---
---
---
---
---
---
---
---
---
---
---
---
---
---
---
---
---
---
---
---
---
---
---
---
---
---
---
---
---
---
---
---
---
---
---
---
---
---
---
---
---
---
---
---
---
---
---
---
---
---
---
---
---
---
---
---
---
---
---
---
---
---
---
---
---
---
---
---
---
---
---
---
---
---
---
---
---
---
---
---
---
---
---
---
---
---
---
---
---
---
---
---
---
---
---
---
---
---
---
---
---
---
---
---
---
---
---
---
---
---
---
---
---
---
---
---
---
---
---
---
---
---
---
---
---
---
---
---
---
---
---
---
---
---
---
---
---
---
---
---
---
---
---
---
---
---
---
---
---
---
---
---
---
---
---
---
---
---
---
---
---
---
---
---
---
---
---
---
---
---
---
---
---
---
---
---
---
---
---
---
---
---
---
---
---
---
---
---
---
---
---
---
---
---
---
---
---
---
---
---
---
---
---
---
---
---
---
---
---
---
---
---
---
---
---
---
---
---
---
---
---
---
---
---
---
---
---
---
---
---
---
---
---
---
---
Back To Top