More News
Have a Totally Toontastic Christmas!
Posted by S'more on December 25, 2018 at 3:30 PM
On the eleventh day of winter, Toontown gives to you:
A totally Toontastic Christmas!
A letter from Doctor Surlee,
Twice your battle experience,
Wonderful wintry wardrobes,
Red-nosed reindeer Toons,
White winter wonderlands,
AND A MEGAAAAAA COG INVASION!
(bum bum bum...)
Christmas caroling Snowtoons,
Snowy winter melodies,
Festive decorations,
And a holiday packed with very merry news!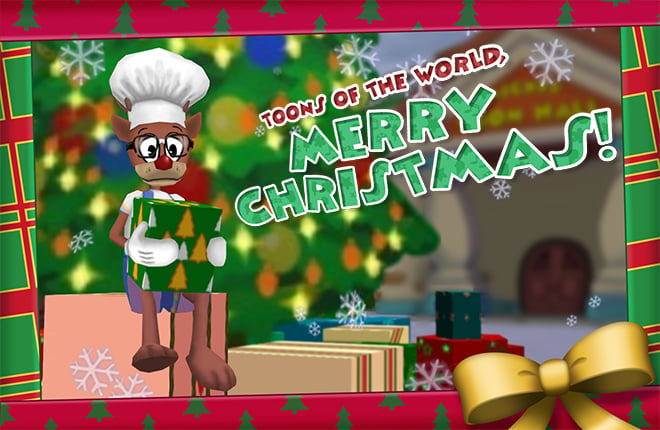 Toons of the world, Merry Chris-- You know what, the Troopers warned me that's something only Flippy can say. I thought I'd give it a try, but it just doesn't feel right. Wondering where Flippy is? Honestly, so are the rest of the Toon Troopers! Our guess is that after delivering all of those presents on the Trolley, he retired to bed for a long winter's nap.
I'm here in Flippy's place to bring you good tidings from all us here at Toon Hall. From the Toon Troopers to the Toon Council, each one of us would like to thank you for all of the Cog-busting and Toontastic cheer you've spread this year. It's because of you that Toontown is merry and bright!
Talking about things being bright, what do you think of my brand spanking new red nose? I was helping out one of my old reindeer friends, Holly Daze. Almost like magic, my nose turned as red as the sweet cherry pies I bake every Sunday. Enough about me though, we're here to talk about you!
Toontown is what it is today because of the Toons who inhabit it, and the point of this entire Twelve Days of Winter extravaganza is to thank you. All of the gifts we've given is our way of saying "You are TOON ENOUGH!" for sticking around with us, and we still have one more day to celebrate tomorrow.
Wherever you may be in Toontown, from Toontown Central, to Donald's Dock, to Acorn Acres, to Daisy Gardens, to Minnie's Melodyland, to Donald's Dream-- GASP! Owooo, I'm sorry, I just can't stop talking sometimes...
What I'm trying to say is, on behalf of everyone on the Toon Council, we'd like to wish you a very Merry Christmas from Toontown!

---
Comments
Sorry! Comments are closed.
---
---
---
---
---
---
---
---
---
---
---
---
---
---
---
---
Back To Top