More News
O Little Town of The Brrrgh
Posted by Professor Flake on December 17, 2018 at 3:00 PM
On the third day of winter, Toontown gives to you:
Snowy winter melodies,
Festive decorations,
And a holiday packed with very merry news!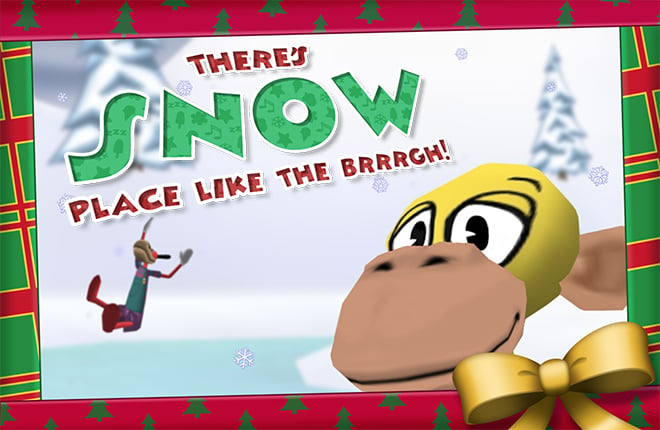 Hello! This is Professor Flake from Precipitation Foundation, a branch laboratory of Loony Labs that I run in The Brrrgh. Me and my fellow Junior Research Scientists -- at least, the ones I can keep around long enough before they run off to fight the C.J. -- have been studying The Brrrgh's weather patterns for years. Well, if you can even call them weather patterns...
The Brrrgh's great blizzard all started way back in the day when Doctor Surlee fired up his Super Duper Air Conditioner. Next thing you know, it went haywire and covered the whole playground with snow! We've been digging for it ever since, and it looks like we're about to get a whole bunch of new helpers, because it's snowing EVERYWHERE in Toontown!
I can't quite explain it, but it seems that the cold weather has caused the machine to crank into overdrive. It's throwing out enough snow to make the North Pole look like a tropical island! That's not even the weirdest part. Here, listen closely. Don't you hear it?
I thought I was going bananas when I heard it last year, but it seems that the snow has altered Toontown's melodies to play special holiday music when roaming the playgrounds! The greatest scientific feat of all seems to be that the Brrrgh's wintery music somehow sounds even more wintery. How is it possible?!
This will require more research. And bananas. I must be off! Enjoy any warmth you can while it lasts -- because something tells me this snow is sticking around for a while. There will be no question about whether Toontown is naughty or "ice!"
---
Comments
Sorry! Comments are closed.
---
---
---
---
---
---
---
---
---
---
---
---
---
---
---
---
---
---
---
---
---
---
---
---
Back To Top