More News
How Sir Max Didn't Steal Christmas
Posted by Hawkheart on December 16, 2018 at 2:00 PM
On the second day of winter, Toontown gives to you:
Festive decorations,
And a holiday packed with very merry news!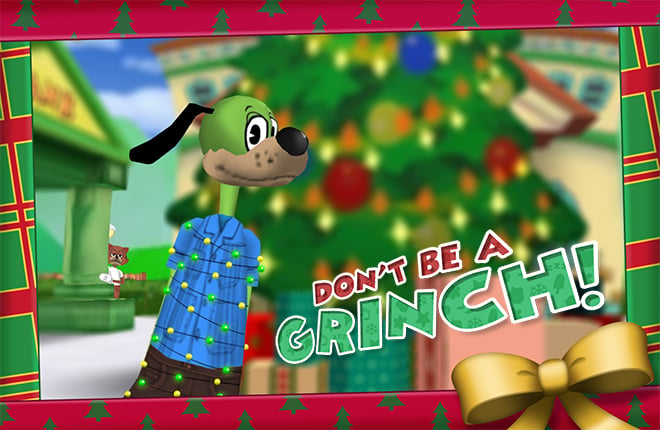 Happy Winter Holiday, Toontown! Hawkheart here, one of Toontown's tip-top Toon Troopers. You may not know this, but I've been Toontown's number one Christmas decorator for two years in a row! I've caught on to the antics of Sir Max this time, and I'll tell you all about it in true Christmas fashion: A story that rhymes!

---
It was twelve o' clock midnight, on a cold winter's night. The tree was primed with decorations a'plenty, but my searches for Sir Max came up empty. He could never hold back for this long, I've known him for years! Perhaps there was fault in my greatest fears.
I've been waiting too long, it's been too many hours. If I just wait a bit longer, maybe I can... Stop...rhyming...and sleep...
. . . ZZZ . . .
HUH? Who goes there?
Struggling to open my eyes I found quite the sight, but seeing the result left me with delight! Sir Max stumbling out of his tree to and fro, covered in wires from his head to his toe! He predicted my plan, with one grave mistake: If you're going to hide in a tree, prepare to ache!
Leaving Max in a bind, I grabbed all the decorations I could find! At last, Toontown will be decorated in holiday lights! Though, I shouldn't leave Sir Max tied up for so many nights. With a twist and a shout, Sir Max finally got out.
He brought me back to his home, where I sat down with a "Phew." Wait, why is this chair all covered in glue?
---
Enjoy the holiday lights, Toontown!
---
Comments
Sorry! Comments are closed.
---
---
---
---
---
---
---
---
---
---
---
---
---
---
---
---
---
---
---
---
---
---
---
---
Back To Top