More News
Must Be SantaToon
Posted by Flippy on December 22, 2018 at 3:30 PM
On the eighth day of winter, Toontown gives to you:
Wonderful wintry wardrobes,
Red-nosed reindeer Toons,
White winter wonderlands,
AND A MEGAAAAAA COG INVASION!
(bum bum bum...)
Christmas caroling Snowtoons,
Snowy winter melodies,
Festive decorations,
And a holiday packed with very merry news!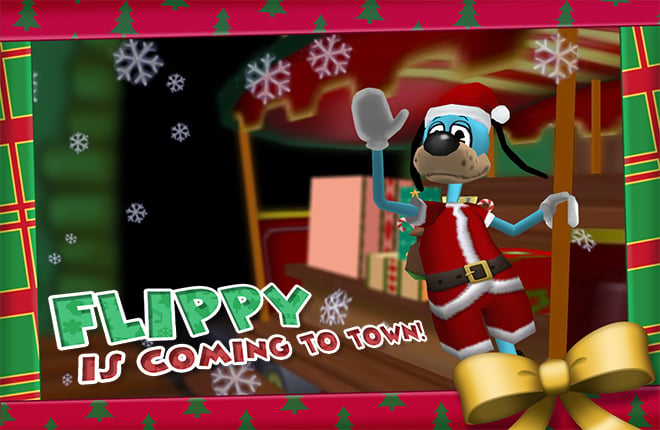 Helloooooooo, Toons of the world! Guess who? No, not SantaToon. It's me, Flippy! Boy, it sure has been a while since we last spoke, I think as far back as our haunting Halloween antics. The Toon Council is keeping me very busy, so I rarely get the chance to leave my desk at Toon Hall.
With all this snow about, though, I thought I'd take a nice stroll through Toontown Central. Let me tell you, that snowstorm makes it way too cold for my paws to walk the streets. So, naturally, there was only one other way to make an appearance: in style. I may not have a sleigh, but I have the Trolley! It even has its own little bell in place of sleigh bells, what more could I wish for?
I may not be SantaToon, but I still come bearing gifts! No, no, they're not Gold, Frankincense or Myrrh, they're better. From now until 11:59 PM on December 30th, head to your Shticker Books and enter the code "coming-to-town" for a Santa outfit, or "on-the-shelf" for an elf outfit to fill your wardrobes, stockings, and sleighs with cheerful Christmas costumes!
Merry Christmas, Toontown!

---
Comments
Sorry! Comments are closed.
---
---
---
---
---
---
---
---
---
---
---
---
Back To Top