More News
Lovely Weather for a Winter Vacation With You
Posted by Paula Behr on December 20, 2018 at 3:00 PM
On the sixth day of winter, Toontown gives to you:
White winter wonderlands,
AND A MEGAAAAAA COG INVASION!
(bum bum bum...)
Christmas caroling Snowtoons,
Snowy winter melodies,
Festive decorations,
And a holiday packed with very merry news!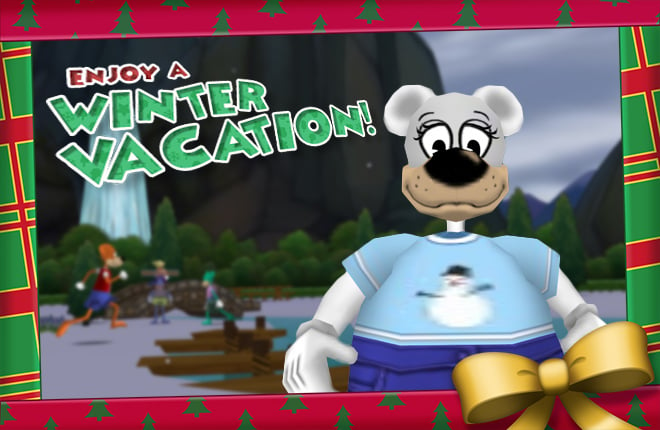 Howdy, Toons! It's around this time things that start really picking up here at Hibernation Vacations. After all, there's been many more Polar Bears looking for a good place to hibernate ever since Doctor Surlee started carrying on the tradition that Slappy started! The Caribbean is a popular choice, but if you ask me, there's too many pirates around there for my liking.
Yessiree, I love the snow. Lucky for me, it snows all year round here in The Brrrgh! If you're like me and love to romp around in the snow instead of laying on a beach towel, I've got some good news for you: It's shaping up to be a white Christmas in Toontown, with all Playgrounds covered in a frosty blanket of snow! It's only a matter of time until there's enough for a good ol' fashioned snowball fight.
Anyhoo, be sure to drop by my shop and say "Howdy!" if you're in the neighborhood. I'll give you a big ol' bear hug and make you feel at home!
December 20, 2018 [ttr-live-v2.3.1]
General
• Pressing the "Enter" key will now confirm pop-up GUI.
• Addressed an issue that caused the expiration date of Winter Caroling ToonTasks to improperly reset.
• Fixed a bug on macOS devices causing the mouse cursor to not match its on-screen location.

Options
• Thanks to community feedback, when Animation Blending is disabled, the smooth movement changes will also be disabled.
• Fixed various animation issues that occurred when Animation Blending is enabled.
• Addressed various instances where the Options Remote could be obscured or covered entirely in the bottom right corner of the screen.
• Fixed a few bugs related to the Automatic SpeedChat+ setting.

Trolley
• Fixed an issue that caused some keybindings to display improperly in Trolley Game instructions.
• Fixed a rare bug causing "Minigame Template" to appear when playing Trolley Games.
• Fixed a visual stutter in Match Minnie when Animation Smoothing is enabled.

Battles
• Fixed various animation bugs related to Animation Blending and Smoothing in Cog Battles.

Fishing
• Fixed an issue that caused controls to be disabled during fishing.

Known Bugs
• Toons who completed the Snowman Head ToonTask last year may not be able to get the task again. We are working to resolve this as soon as possible!
• Keys bound to "Enter" may not work properly after pressing "Enter" to confirm a pop-up GUI.

---
Comments
Sorry! Comments are closed.
---
---
---
---
---
---
---
---
---
Back To Top