More News
Play in Holly's Reindeer Games!
Posted by Holly Daze on December 21, 2018 at 2:30 PM
On the seventh day of winter, Toontown gives to you:
Red-nosed reindeer Toons,
White winter wonderlands,
AND A MEGAAAAAA COG INVASION!
(bum bum bum...)
Christmas caroling Snowtoons,
Snowy winter melodies,
Festive decorations,
And a holiday packed with very merry news!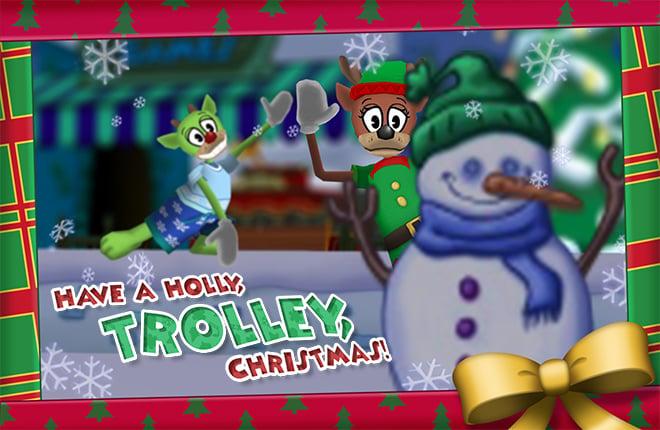 Happy Holidays, Toons! The most famous reindeer of all is back in town... That's right, it's me, Holly Daze! Who else would you be expecting?
It sure has been a busy year. SantaToon has been working tirelessly all year round to ensure each Toon gets their Christmas gifts on time -- as long as you're not on the naughty list! It's my job to help him on his festive journey around Toontown to deliver everyone's gifts.
Once again I find myself in a pickle. It's starting to become a yearly tradition! You see, we've had a lot of Toons move into Toontown this year, and there's far too many presents for me to deliver all by myself. I tried to get a head start on the task by starting my round a little earlier this year. If you feel inspired by the season of giving, come by The Brrrgh for a limited-time ToonTask and lending me your help. You might just earn yourself a gift before Christmas!
I have an extra special something for my fellow Deer Toons, too. If you really want to stand out at the Toontown Christmas party this year, what could be better than swapping your plain old regular nose for a bright, shiny, red nose? I can assure you, it's very much the fashion back at SantaToon's workshop.
I hope to see you very soon - these presents won't deliver themselves!
---
Comments
Sorry! Comments are closed.
---
---
---
---
---
---
---
---
---
---
---
---
---
---
---
---
Back To Top