More News
Backstage: Even MORE Tweaks to Toontown!
Posted by The Toontown Team on March 11, 2016 at 12:00 PM
Did you miss us? We're back for another exciting Backstage Column, where we talk about the inside scoop of the Toontown Rewritten team. There's a lot we've been working on, but first it's time to talk about something more along the lines of the "classics" in terms of updates. Just like last year, we're going to talk about making...

The Outstanding Update
Last year, we released a Backstage post just like this one where we talked about making a couple of
Tweaks to Toontown
. The idea was a hit, and so we proudly put together a big update consisting entirely of community-suggested tweaks.
That post turned into one of our largest updates EVER, resulting in some of the biggest and most loved changes for the game. You can view the whole list over here on the final
Toontown Tweaks Blog Post
from last year. You may have forgotten that some of those changes used to be different!
A Newly Fabricated Formula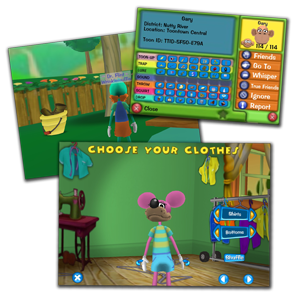 Although we all LOVED seeing a release note list that long, you may have noticed lately that since a lot of the original game's content has been released, we've been lacking release notes at all!
Keeping in the spirit of the community-suggested update, we've listened to YOU and decided to release the tweaks as they are developed rather than saving them up for one big update. While we may not get a list of release notes quite so long, this means that
Tweaks will be released sooner, right when they're ready, rather than stored up as one huge update
-- which results in more great changes for Toontown!
We Need YOU!
As it turns out, making Tweaks to Toontown was a bigger blessing than we thought! We've made so many adjustments that a lot of our own suggestions have already been implemented, which is where you come in. We're always listening, but now more than ever, we want YOU to send in your ideas on what small changes could make Toontown a better place for everyone!
Do you have ideas for new ToonTasks? New Rewards? Ways to make the game easier, harder, and more fun? What kind of things could be redesigned to bring the game up to date? Are there things in other games that you think could work well in Toontown? We'd love to hear your answers to these questions, and many, many, more.
Look Forward to the Future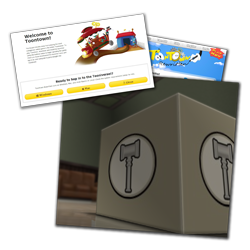 You'll see the first small set of Tweaks in the coming weeks, followed by many more as time goes on. We can't wait to see what you think, and what you come up with for us!
Be sure to follow the
OMG!Con 2016 news
as well -- we're talking about that event so much for a reason, you know, and it's not just so that we get some more free pies to the face. The most exciting details are yet to come.
Thanks for sticking with us for another Backstage Column, and don't forget to comment about your suggestions and tweaks!
---
Comments
Sorry! Comments are closed.
---
---
---
---
---
---
---
---
---
---
---
---
---
---
---
---
---
---
---
---
---
---
---
---
---
---
---
---
---
---
---
---
---
---
---
---
---
---
---
---
---
---
---
---
---
---
---
---
---
---
---
---
---
---
---
---
---
---
---
---
---
---
---
---
---
---
---
---
---
---
---
---
---
---
---
---
---
---
---
---
---
---
---
---
---
---
---
---
---
---
---
---
---
---
---
---
---
---
---
---
---
---
---
---
---
---
---
---
---
---
---
---
---
---
---
---
---
---
---
---
---
---
---
---
---
---
---
---
---
---
---
---
---
---
---
---
---
---
---
---
---
---
---
---
---
---
---
---
---
---
---
---
---
---
---
---
---
---
---
---
---
---
---
---
---
---
---
---
---
---
---
---
---
---
---
---
---
---
---
---
---
---
---
---
---
---
---
---
---
---
---
---
---
---
---
---
---
---
---
---
---
---
---
---
---
---
---
---
---
---
---
---
---
---
---
---
---
---
---
---
---
---
---
---
---
---
---
---
---
---
---
---
---
---
---
---
---
---
---
---
---
---
---
---
---
---
---
---
---
---
---
---
---
---
---
---
---
---
---
---
---
---
---
---
---
---
---
---
---
---
---
---
---
---
---
---
---
---
---
---
---
---
---
---
---
---
---
---
---
---
---
---
---
---
---
---
---
---
---
---
---
---
---
---
---
---
---
---
---
---
---
---
---
---
---
---
---
---
---
---
---
---
---
---
---
---
---
---
---
---
---
---
---
---
---
---
---
---
---
---
---
---
---
---
---
---
---
---
---
---
---
---
---
---
---
---
---
---
---
---
---
---
---
---
---
---
---
---
---
---
---
---
---
---
---
---
---
---
---
---
---
---
---
---
---
---
---
---
---
---
---
---
---
---
---
---
---
---
---
---
---
---
---
---
---
---
---
---
---
---
---
---
---
---
---
---
---
---
---
---
---
---
---
---
---
---
---
---
---
---
---
---
---
---
---
---
---
---
---
---
---
---
---
---
---
---
---
---
---
---
---
---
---
---
---
---
---
---
---
---
---
---
---
---
---
---
---
---
---
---
---
---
---
---
---
---
---
---
---
---
---
---
---
---
---
---
---
---
---
---
---
---
---
---
---
---
---
---
---
---
---
---
---
---
---
---
---
---
---
---
---
---
---
---
---
---
---
---
---
---
---
---
---
---
Back To Top