More News
Announcing ToonFest at OMG!Con 2016
Posted by The Toontown Team on January 23, 2016 at 9:00 AM
Last year, Toontown Rewritten hosted the first official
real-world ToonFest event
since 2007. You've seen the videos, you've heard the excitement, and you've BEGGED us to know if it's happening again.
Today, we are extremely excited to announce that ToonFest will be returning once more to
OMG!Con 2016
in
Owensboro, Kentucky
!
Last year, Toontown's ToonFest celebration involved two panels led by the Toontown Rewritten team themselves that debuted exclusive content such as our first advertisement, the announcement of Storm Sellbot, and sneak peeks at what's to come! We also held plenty of activities such as a real-life pie toss, gameplay sessions, and meet-and-greets.
This year, we're going to be expanding that even more with all sorts of new things to keep you Toons entertained. We are working closely with the OMG!Con staff to provide an experience out of this world for all of our players who are able to attend! If you thought last year was fun -- that was just a practice run compared to what we have in store.
As time goes on, we will be posting updates to our blog to announce the exact activities that will be taking place. In the meantime, here is the basic information you need to begin planning your trip!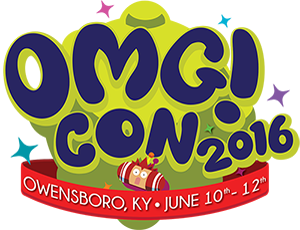 OMG!Con is a big place, but tickets and hotels sell out quick.
Click here
to visit their website, and visit the "Registration" page to order tickets. You'll also save $5 on tickets for ordering before March 15th!

As a member of the Tooniverse, you can get tickets (including group badges) for a discount!
Toontown Rewritten will be a main exhibitor at OMG!Con 2016, which lasts from June 10th to June 12th. (Friday to Sunday)
Each day will be packed with Toontastic activities, however Saturday is the day of our main event!
This event is a real-world celebration for Toontown's 13th anniversary. ToonFest 2016, the annual in-game celebration of Toontown Rewritten held in Acorn Acres, will still be hosted on September 19, 2016.
The event will be recorded and uploaded for those who are unable to attend -- but you really won't want to miss it if you are able to be there in person!
Toontown Rewritten receives no profits or revenue from this event -- we're just in it for the celebration of all things Toontown! All convention costs are being paid out of pocket by our loyal staff members.
OMG!Con is a big convention full of all sorts of things to do outside of Toontown Rewritten - you may come for us, but you'll want to stay for the day full of fun!
We know that a lot of you were hoping that ToonFest would move to a closer location this year, but we spent a lot of time looking at locations and events until ultimately deciding that OMG!Con was the one that could offer the best experience for our players. Don't lose hope, though -- as Toontown grows, so will our events!
Last year, over two hundred fans showed up JUST for Toontown -- and because we have announced the convention so early this year, we're expecting that number to increase greatly! OMG!Con brings in an estimate of 2,500 attendees.
So what are you waiting for? Come by and join the fun! There's plenty to do, and we're just as excited as all of you. Stay TOONed on our blog for more information as it becomes available, and we hope to see you at ToonFest!
---
Comments
Sorry! Comments are closed.
---
---
---
---
---
---
---
---
---
---
---
---
---
---
---
---
---
---
---
---
---
---
---
---
---
---
---
---
---
---
---
---
---
---
---
---
---
---
---
---
---
---
---
---
---
---
---
---
---
---
---
---
---
---
---
---
---
---
---
---
---
---
---
---
---
---
---
---
---
---
---
---
---
---
---
---
---
---
---
---
---
---
---
---
---
---
---
---
---
---
---
---
---
---
---
---
---
---
---
---
---
---
---
---
---
---
---
---
---
---
---
---
---
---
Back To Top