More News
Too Good for Government Work
Posted by Sir Max on February 13, 2016 at 9:00 AM
WE DID IT TOONTOWN!
The absolute longest amount of time between two blog posts. I mean, it probably was, right? I didn't really check. It certainly seemed like it. Nonetheless, it's close enough for government work.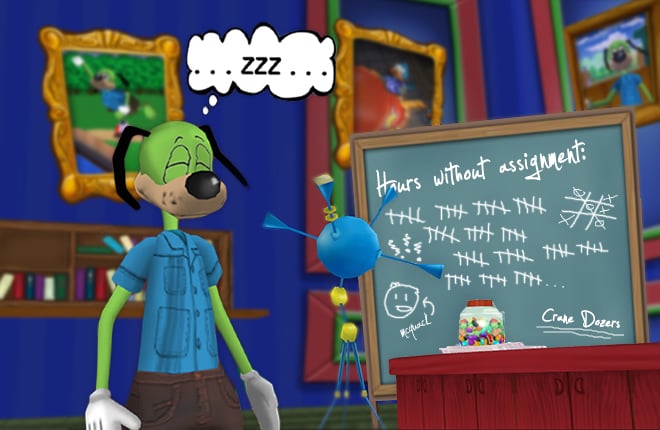 Speaking of government work, that's actually the topic I've got to talk to you about today: The Toon Council? They've given me absolutely nothing to talk about.
Zilch!
This time last year I actually went
on strike
, (which is continuing - no new website yet!) but this year they're just doing it for me.
Let me tell you, it's pretty lonely without you folks. I mean, I know I do most of the talking here, but at least you're good listeners. Err, readers. Moving on!
I should clarify that the Toon Council hasn't given me any assignments because they've been too busy
creating them
, as usual. It happens every year around this time, just as you can see with the whole Blockade I set up last year.
We can't just pull all of those updates out of thin air, you know -- we set aside this time of year to re-evaluate progress and figure out what's "Toon Enough" to come out over the course of the next year. That way, in the months with our highest player counts (When school gets out for the summer!) we have plenty of things ready to release for all of you Toons.
What's that mean for the time-being? I can't tell you what they're working on; they'd have my head if I did. What I can tell you, however, is that we know it can be boring in these months while we work on the updates, and just like last year, we have some things planned to keep you entertained.
Keep your eyes peeled for Backstage Blog posts, Toontown Tweaks TWO, and -- I mean finally this time -- an entire new website that you'll hear more about in the upcoming weeks.
Now, enough talking from me. Let me hear from YOU -- what kind of news or activities do you want to see in Toontown while we work on our big updates and events?
---
Comments
Sorry! Comments are closed.
---
---
---
---
---
---
---
---
---
---
---
---
---
---
---
---
---
---
---
---
---
---
---
---
---
---
---
---
---
---
---
---
---
---
---
---
---
---
---
---
---
---
---
---
---
---
---
---
---
---
---
---
---
---
---
---
---
---
---
---
---
---
---
---
---
---
---
---
---
---
---
---
---
---
---
---
---
---
---
---
---
---
---
---
---
---
---
---
---
---
---
---
---
---
---
---
---
---
---
---
---
---
---
---
---
---
---
---
---
---
---
---
---
---
---
---
---
---
---
---
---
---
---
---
---
---
---
---
---
---
---
---
---
---
---
---
---
---
---
---
---
---
---
---
---
---
---
---
---
---
---
---
---
---
---
---
---
---
---
---
---
---
---
---
---
---
---
---
---
---
---
---
---
---
---
---
---
---
---
---
---
---
---
---
---
---
---
---
---
---
---
---
---
---
---
---
---
---
---
---
---
---
---
---
---
---
---
---
---
---
---
---
---
---
---
---
---
---
---
---
---
---
---
---
---
---
---
---
---
---
---
---
---
---
---
---
---
---
---
---
---
---
---
---
---
---
---
---
---
---
---
---
---
---
---
---
---
---
---
---
---
---
---
---
---
---
---
---
---
---
---
---
---
---
---
---
---
---
---
---
---
---
---
---
---
---
---
---
---
---
---
---
---
---
---
---
---
---
---
---
---
---
---
---
---
---
---
---
---
---
---
---
---
---
---
---
---
---
---
---
---
---
---
---
---
---
---
---
---
---
---
---
---
---
---
---
---
---
---
---
---
---
---
---
---
---
---
---
---
---
---
---
---
---
---
---
---
---
---
---
---
---
---
---
---
---
---
---
---
---
---
---
---
---
---
---
---
---
---
---
---
---
---
---
---
---
---
---
---
---
---
---
---
---
---
---
---
---
---
---
---
---
---
---
---
---
---
---
---
---
---
---
---
---
---
---
---
---
---
---
---
---
---
---
---
---
---
---
---
---
---
---
---
---
---
---
---
---
---
---
---
---
---
---
---
---
---
---
---
---
---
---
---
---
---
---
---
---
---
---
---
---
---
---
---
---
---
---
---
---
---
---
---
---
---
---
---
---
---
---
---
---
---
---
---
---
---
---
---
---
---
---
---
---
---
---
---
---
---
---
---
---
---
---
---
---
---
---
---
---
---
---
---
---
---
---
---
---
---
---
---
---
---
---
---
---
---
---
---
---
---
---
---
---
---
---
---
---
---
---
---
---
---
---
---
---
---
---
---
---
---
---
---
---
---
---
---
---
---
---
---
---
---
---
---
---
---
---
---
---
---
---
---
---
---
---
---
---
---
---
---
---
---
---
---
---
---
---
---
---
---
---
---
---
---
---
---
---
---
---
---
---
---
---
---
---
---
---
---
---
---
---
---
---
---
---
---
---
---
---
---
---
---
---
---
---
---
---
---
---
---
---
---
---
---
---
---
---
---
---
---
---
---
---
---
---
---
---
---
---
---
---
---
---
---
---
---
---
---
---
---
---
---
---
---
---
---
---
---
---
---
---
---
---
---
---
---
---
---
---
---
---
---
---
---
---
---
---
---
---
---
---
---
Back To Top