More News
Enter the "Toontown Shorts" Video Contest!
Posted by The Toontown Team on February 21, 2016 at 6:30 PM
Lights, camera, CONTEST!
It's been a while since we hosted a contest for you Toons, so this time we're on a search for the next big thing. Whether you have a knack for storytelling, really keen video editing skills, or just want to have some fun -- we want to see your creations!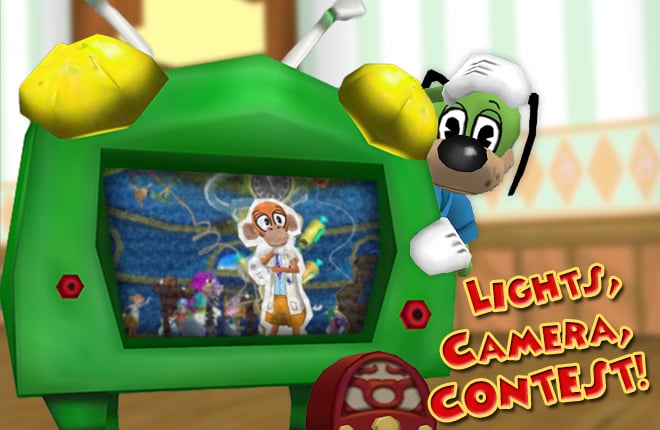 What kind of video should you make, you ask? We'll be selecting three videos to be our grand prize winners based off of these categories:
---
Best Idea
Have you got the creative wit, but not necessarily the best video editor? Our winner from this category will be chosen based on what our team members consider to be the most creative idea in the whole contest.
Best Editing
A lot of you REALLY know your way around a video editor, and we REALLY want to see the best that you can create! This grand prize winner will be whoever has the video with top-notch production quality.
Most "TOON Enough"
There's plenty of ways to describe Toontown. Wacky, Toontastic, zany and creative to name a few. There's just some things that have a certain charm to them, and the winner of this miscellaneous category will go to whoever may not fall into the other two categories, but still captures the charm of Toontown!
---
Even though our winners will be picked based off of those categories, we don't want you to pick a specific one to try and create. If you have a great idea AND great video editing, by all means, do both! We much rather have a well-rounded video than one that has too much of a certain area.
Here's a quick summary of the official rules, regulations, and all that mumbo-jumbo!
To enter, create an up to three minutes long Toontown Short about any story you can imagine! It can be an advertisement, comedy, backstory -- anything relating to Toontown.
All three grand prize winners will receive a real life Toontown Prize Pack, as well as have their videos featured on the Toontown website!
Once you've created your video, upload it to YouTube and head over to the Submission Page to submit your URL.
Include the tag "ToontownShorts" in your video so that others can find it easier! All approved entries will also be added to our Toontown Shorts Playlist.
All entries should be submitted before March 20th, 2016 at 11:59PM PST. The grand prize winners will be announced soon after!
Think you've got what it takes? Check out all of the other rules and details over on the
Submission Page
.
Here are a few existing Toontown Shorts we've hand-picked to give you some ideas. These aren't made by us, but we certainly enjoy them!
We're excited to see what you can come up with! If you need help uploading your video or have any questions about the contest, please don't hesitate to email us at
[email protected]
. You can also check out Google's
help page
to learn how to upload videos to YouTube.
---
Comments
Sorry! Comments are closed.
---
---
---
---
---
---
---
---
---
---
---
---
---
---
---
---
---
---
---
---
---
---
---
---
---
---
---
---
---
---
---
---
---
---
---
---
---
---
---
---
---
---
---
---
---
---
---
---
---
---
---
---
---
---
---
---
---
---
---
---
---
---
---
---
---
---
---
---
---
---
---
---
---
---
---
---
---
---
---
---
---
---
---
---
---
---
---
---
---
---
---
---
---
Back To Top