More News
Celebrate PI(e) Day
Posted by Flippy on March 15, 2016 at 1:00 PM
Flippy, President of the Toon Council, here! As many of you know, a very important national Toontown Holiday has just finished -- March 14th, or as some may call it,
3/14
--
The National Day of PI(e)!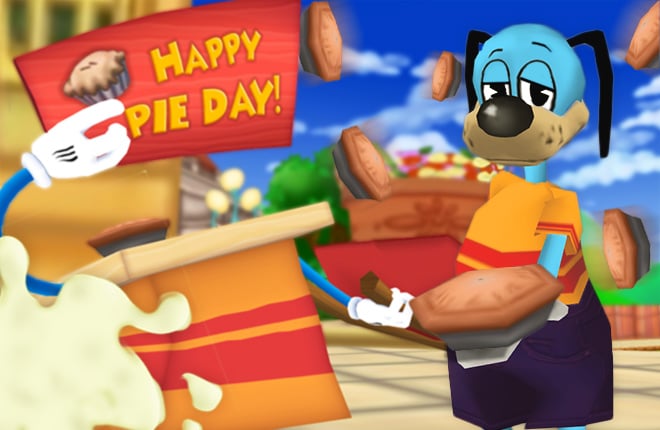 The Ides of March may have backstabbed some of us bewildered blokes, but fortunately I was fixing up a feast all day yesterday in celebration of Pie Day... And ended up with an excess of hundreds, maybe even THOUSANDS of PIES!
I was hoping to use them to attract my doodle, Fluffy, back to me... But my duties as President of the Toon Council come first, and these pies could go to a lot of needy Toons on our streets. I rang up my riveting and rather ridiculous
Pie Stand
, the one I built for the Election, and let him return to his very own spot in Toontown Central to give out pies once again!
So go ahead, grab as many pies as you can grasp. They're on the house -- or Toon Hall, rather! I sadly must stay inside and attend to my duties, but I have no doubt I'll be visited throughout the day with more than one pie to the face.
Take care, Toons, and I hope you had a Happy Pie Day!
March 15, 2016 [ttr-beta-v1.11.4]
Features:
• Happy Pi(e) Day! Make sure you visit Flippy's Pie Stand in Toontown Central and take some pie off his hands!
• We have a St. Patrick's Day surprise in store!

Maintenance:
• Fixed a crash relating to Polar effect transformation.
• Fixed a bug that allowed Toons to have 101 friends (1 above the maximum).
• Fixed an issue where the Toon Rewrite button wasn't appearing while the Toon's name was pending review.
• Fixed a bug where C.F.O. treasures were not properly spawning when a goon was disabled.
• Miscellaneous internal fixes.

---
Comments
Sorry! Comments are closed.
---
---
---
---
---
---
---
---
---
---
---
---
---
---
---
---
---
---
---
---
---
---
---
---
---
---
---
---
---
---
---
---
---
---
---
---
---
---
---
---
---
---
---
---
---
---
---
---
---
---
---
---
---
---
---
---
---
---
---
---
---
---
---
---
---
---
---
---
---
---
---
---
---
---
---
---
---
---
---
---
---
---
---
---
---
---
---
---
---
---
---
---
---
---
---
---
---
---
---
---
---
---
---
---
---
---
---
---
---
---
---
---
---
---
---
---
---
---
---
---
---
---
---
Back To Top