More News
The Chatless Update Rides Again
Posted by Fat McStink on March 28, 2015 at 2:00 PM
Gather round, Toons, and let me tell you a tale! You see, in a long-forgotten era that some refer to as
'Alpha'
, there was a period of time where legend claimed that Toons were only able to speak using SpeedChat phrases. They were definitely
dark days indeed
.
But now, it's time to introduce a new era in comTOONication, where we're improving SpeedChat to be even better than before: Introducing
The Chatless Update 2: With SpeedChat+, too!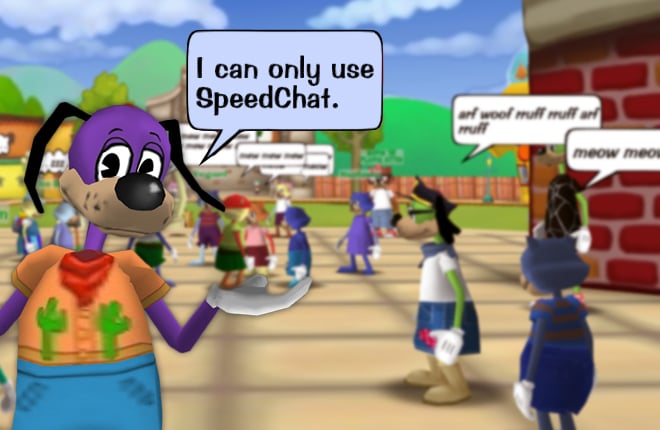 Chatless Toons Arrive!
As many of you have noticed over the past week, we silently went and enabled an account setting which would allow you to turn SpeedChat+ off. This is the default for all new accounts in an effort to keep Toontown safe, while still keeping it fun. Some people just don't like the hustle and bustle of typing to each other -- and now you won't have to deal with it.
To disable SpeedChat+ for an existing account, simply login on the Toontown Rewritten website and click on
Account
, then select the
Chat Settings
button to choose
Basic SpeedChat
. This option isn't for everyone, but it's particularly useful for younger players who want to stay safe online, or older players who simply don't want to deal with some of the super-duper wacky Toons out there.
The SpeedChat Improvement Project
For both chat-filled and chatless Toons alike, SpeedChat is a quick and easy way to communicate throughout Toontown -- and we want to make it better! We've taken some feedback to make minor tweaks to the menu, and we'll be adding even more phrases in the future as we get feedback from our new Chatless players.
If you're having trouble finding some of your favorite phrases, don't worry, they aren't gone! Look through the categories and you'll find them in an even easier location - and a few new phrases, as well. The changes are minor right now, which is why we need your feedback on how to make SpeedChat even easier to communicate with.
The Future is... Soon!
Us Toon Troopers have been throwing together all sorts of ideas for the future of communication in Toontown. The
Translating the Tooniverse
project is still underway, and there have been plenty of ideas thrown around as well like True Friends, Chatless Districts, and more!
We're eager to hear your thoughts on the style of chatting in Toontown -- but that's certainly the smallest thing we're working on compared to the other features we have up our sleeve. Keep your eyes peeled, and your mouths blabbering. Most of all -- Enjoy
The Chatless Update 2!
---
Comments
Sorry! Comments are closed.
---
---
---
---
---
---
---
---
---
---
---
---
---
---
---
---
---
---
---
---
---
---
---
---
---
---
---
---
---
---
---
---
---
---
---
---
---
---
---
---
---
---
---
---
---
---
---
---
---
---
---
---
---
---
---
---
---
---
---
---
---
---
---
---
---
---
---
---
---
---
---
---
---
---
---
---
---
Back To Top