More News
Get Happy for the Double Bean Days
Posted by Sir Max on March 20, 2015 at 2:00 PM
COUGH, HACK HACK, WHEEZE... sniffle
Gah... What day is it? Long time no see, Toons. The strike is still at large! That's not the reason I haven't been around, though -- I've been stuck here with sickness for a solid week. I even missed the most green holiday of all: St. Max's day! (Patrick, Max, same thing.)
Don't let that get me down, though, because today is the
Interational Day of Happiness
, and you know that us Toons love a good excuse for some happiness.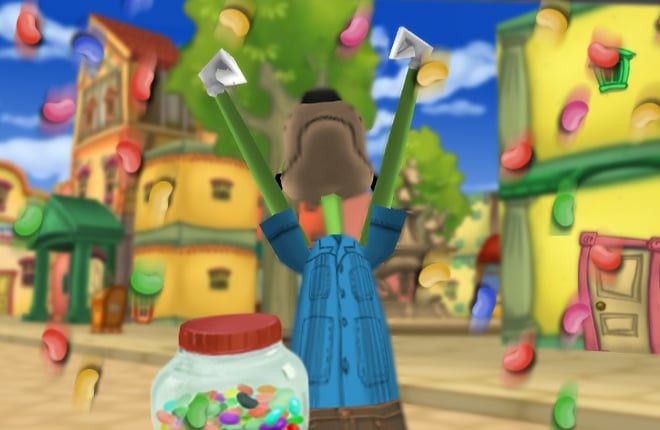 Now look, it might be crazy what I'm about to say: We've had Double PlayTime, Double Experience, and now the newest contender in our "Double" line of events:
Double Bean Days
. Up until Sunday night, riding the trolley will reward you with twice the amount of beans as usual.
Fishing and flowers are still selling at market price I'm afraid, but hey, I can't campaign for everything around here. You win some, you lose some. I'd call this a big victory, if I do say so myself. The strike is definitely working, I promise you. Now, they
may
have docked my pay for it. And by dock, I mean cut off entirely. But that's what the bean days are for! Sticking it to the man!
I don't know about you, but I'm hopping on the trolley before you process this sentence enough to take my spot in line. In fact, I am now on it. And now I'm riding it. And now I'm playing a game! Can't talk, Toons - I'll see you on the trolley!
March 20, 2015 [ttr-beta-v1.8.5]
Features:
• Double Bean Days are here! All jellybeans earned on the trolley will be doubled until Sunday at midnight Toontown Time.
• Added new abilities to our moderation backend.

Bugfixes:
• Modify how SpeedChat+ messages are sent. This should fix the 'Ignore' feature not working.

---
Comments
Sorry! Comments are closed.
---
---
---
---
---
---
---
---
---
---
---
---
---
---
---
---
---
---
---
---
---
---
---
---
---
---
---
---
---
---
---
---
---
---
---
---
---
---
---
---
---
---
---
---
---
---
---
---
---
---
---
---
---
---
---
---
---
---
---
---
---
---
---
---
---
---
---
---
---
---
---
---
---
---
---
---
---
---
---
---
---
---
---
---
---
---
---
---
---
---
---
---
Back To Top