More News
Team LHAAFBBHQ: Peculiar Plans?
Posted by Team LHAAFBBHQ Mission Update on March 30, 2015 at 2:00 PM
It's been weeks since we last received word from Team LHAAFBBHQ on their hunt for the Headquarters, leaving Toons everywhere wondering whether or not they were snatched up by the hideous Headhunters during the Mega-Invasion. What would the Cogs have done with them? And where are they now?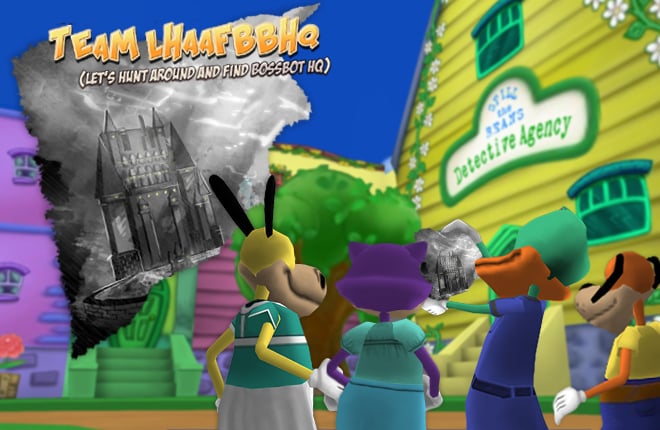 "We're here!" shouted Colonel Violet as the team emerged from a cellar door next to their destination. It seems that they got sidetracked in Daisy Gardens while waiting for The Professor's garden to grow -- only to realize that it wouldn't!
Captain Rollie clenched the cog-encrusted letter as he stepped forward to knock on the door. However, he didn't even knock a knuckle when he was interrupted by a short and round little dog who was watering a flower nearby.
(His garden wouldn't grow, either.)
"What case can I crack for you Toons?" asked
Detective Lima
, the owner of the building.
Captain Rollie handed the letter which Whispering Willow had trusted him with over to the detective, explaining their formerly classified situation.
Whoops!
"Hmm, this envelope is definitely printed from the Cogs, but I've never seen this kind of lettering. Last time I had my hands on one of these, they were building that darn Sellbot Factory down the street that keeps me up all night."
Lima opened the letter carefully, wiping the splattered oil onto his shorts. His jaw dropped, almost certainly to the ground, as he stared at the contents inside.
"Spill the beans, Lima. What's in it?" asked Colonel Violet, who wanted to get her pies on the face of whatever Cog wrote it.
Lima murmured the words "See for yourself," while slowly handing it to The Professor who stood nearby. The letter contained a partial picture of a scary
Cog castle
- and
never-before-seen area
that was being worked on around it.
"Chief Financial Officer," the letter read, "If you are ever able to find your way out of the musky vault that you call an office, you are allowed to join me for a banquet at my recently started
Bossbot Headquarters
. The Chairman has approved my designs for manufacturing, and it will most certainly be better than any seen before. The pleasure is all yours. -- The C.E.O."
"This isn't looking good at all, Toons." Lima said with a tone that could be considered worried. "I can't seem to make out any location for this picture, and based on these tears I'd guess that there are another two pieces of it. I'm going to make a copy and send this to Doctor Surlee."
"The Lawbots are our best bet," Silly Lilly spoke. "If this '
C.E.O.
' addressed one of his invitations to the C.F.O., you can bet that the Chief Justice was on there as well."
And so the team went off, taking the letter with them to investigate the Bossbot's wretched plans. We need to find the Headquarters quick if we're going to stop the Cogs from constructing it -- and Team LHAAFBBHQ is on the case!

---
Comments
Sorry! Comments are closed.
---
---
---
---
---
---
---
---
---
---
---
---
---
---
---
---
---
---
---
---
---
---
---
---
---
---
---
---
---
---
---
---
---
---
---
---
---
---
---
---
---
---
---
---
---
---
---
---
---
---
---
---
---
---
---
---
---
---
---
---
---
---
---
---
---
---
---
---
---
---
---
---
---
---
---
---
---
---
---
---
---
---
---
---
---
---
---
---
---
---
---
---
---
---
---
---
---
---
---
---
---
---
---
---
---
---
---
---
---
---
---
---
---
Back To Top