More News
Happy Pi(e) Day!
Posted by Flippy on March 14, 2015 at 2:00 PM
Howdy, everyone! Long time no chat! I wasn't planning on making this post today, but I was just walking out of the Toon Council meeting this morning when I heard Doctor Surlee mention that today is
National Pie Day!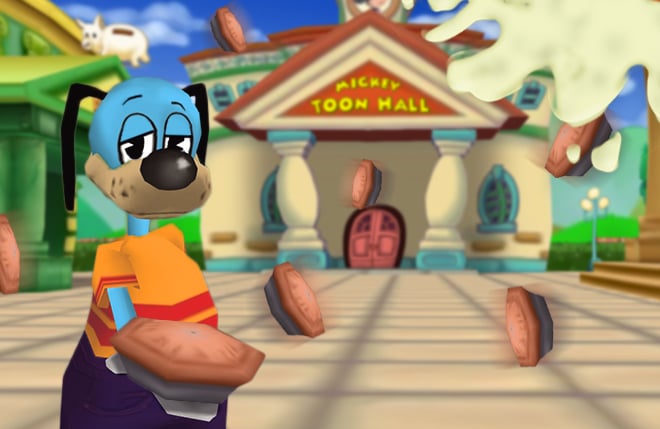 I can't believe it crept up so close on me -- I'd never miss a day dedicated to those delicious desserts, after all. I double and triple checked my calendar, however, and found the culprit: They misprinted it as
Pi
day. Who would be silly enough to leave the "e" off of pie?
If I had plenty time to prepare, I would have willingly brought my stand to give pies out -- pronto! For some ridiculous reason, though, its been moving slower lately... Doctor Surlee says it's something about the lack of silliness around town.
Updates have been scarce with Sir Max's strike, after all, but trust me when I tell you us Toons have a load of things up our sleeve -- and they're coming out soon! Even Doctor Surlee has no doubts that the stand will be awesomely animated again after we get cracking on that.
Enjoy National Pie Day, everyone - you may even see me running around town to distribute some pies since my stand isn't able to. Toons of the world, Gag Up!
March 14, 2015 [ttr-beta-v1.8.3]
Maintenance:
• Server Engine Update! We've included some experimental major server stability improvements to test out throughout the weekend.

Bugfixes:
• Fix an exploit where Toons could receive unreleased "special" animations -- don't worry, they are being released soon!
• Fix a crash related to furniture.
• Fix Bingo card placement.
• Potentially fix garden growth for some players. Bear with us as we continue to investigate this issue.

Tweaks:
• Clothing stores now accept Jellybeans once again.

---
Comments
Sorry! Comments are closed.
---
---
---
---
---
---
---
---
---
---
---
---
---
---
---
---
---
---
---
---
---
---
---
---
---
---
---
---
---
---
---
---
---
---
---
---
---
---
---
---
---
---
---
---
---
---
---
---
---
---
---
---
---
---
---
---
---
---
---
---
---
---
---
---
---
---
---
---
Back To Top