More News
Daily Alpha Update: The Chatless Update
Posted by Sir Max on October 30, 2013 at 2:00 PM
It's been only three days since Toontown Rewritten launched, and one thing is certain:
It is really hard to be chatless.
We've had trouble communicating with you, which shows us that something needs to be done about SpeedChat to make it better.
Introducing...
The Chatless Update!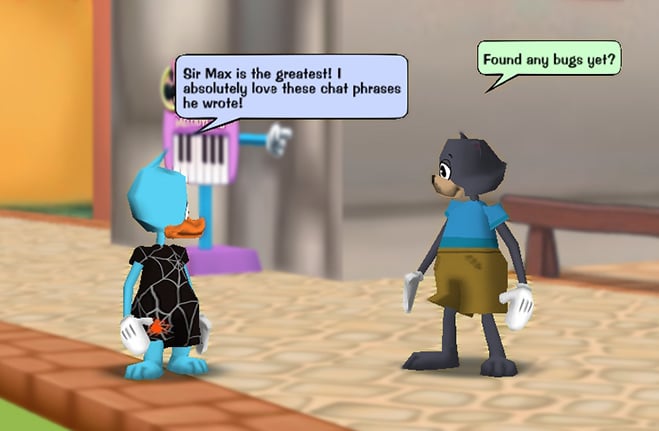 Up until Friday (And probably some minor updates after that.) we will be adding and adjusting SpeedChat Phrases based on your feedback. Remember: Not everyone can nor wants to use SpeedChat+. We want SpeedChat to give just as good of an experience as SpeedChat+ for those who choose to be chatless.
We've started out today by adding one new section for testing-related phrases. It's not much, but we don't want to change anything major without your feedback first. Whether you are an alpha tester or not, let us know in the comments what you want to be changed in SpeedChat.
Additionally to the Chatless update, you guys voted for the
Ring Game
to be added. Just in time for Halloween, we also fixed that terrifyingly Toony bug that caused arms and legs to look odd when making a Toon. We don't need anymore nightmares to go with the ones that come tomorrow!
October 30, 2013 [ttr-alpha-gaf01490]
Maintenance:
? Adjust nametag disappearance to work similar to Disney's Toontown
? Fix the "Slendertoon" bug in Make-a-Toon
? Retitle game window


Features:
? Ring Game with widescreen support
? Added Alpha SpeedChat phrases
? Implemented oinks, woofs, meows, and other toon sounds. Owooo!

---
Comments
Sorry! Comments are closed.
---
---
---
---
---
---
---
---
---
---
---
---
---
---
---
---
---
---
---
---
---
---
---
---
---
---
---
---
---
---
---
---
---
---
---
---
---
---
---
---
---
---
---
---
---
---
---
---
---
---
---
---
---
---
---
---
---
---
---
---
---
---
---
---
---
---
---
---
---
---
---
---
---
---
---
---
---
---
---
---
---
---
---
---
---
---
---
---
---
---
---
---
---
---
---
---
---
---
---
---
---
---
---
---
---
---
---
---
---
---
---
---
---
---
---
---
---
---
---
---
---
---
---
---
---
---
---
---
---
---
---
---
---
---
---
---
---
---
---
---
---
---
---
---
---
---
---
---
---
---
---
---
---
---
---
---
---
---
---
---
---
---
---
---
---
---
---
---
---
---
---
---
---
---
---
---
---
---
---
---
---
---
---
---
---
---
---
---
---
---
---
---
---
---
---
---
---
---
Back To Top