More News
Daily Alpha Update: The Final(ish) Chatless Update
Posted by Sir Max on November 1, 2013 at 2:00 PM
Hi there!
I can only use Speedchat.
Having fun?
Me too.
What do you want to do?
Let's go ride the trolley!
Got gags?
Sir Max is the greatest! I absolutely love these SpeedChat Phrases he wrote!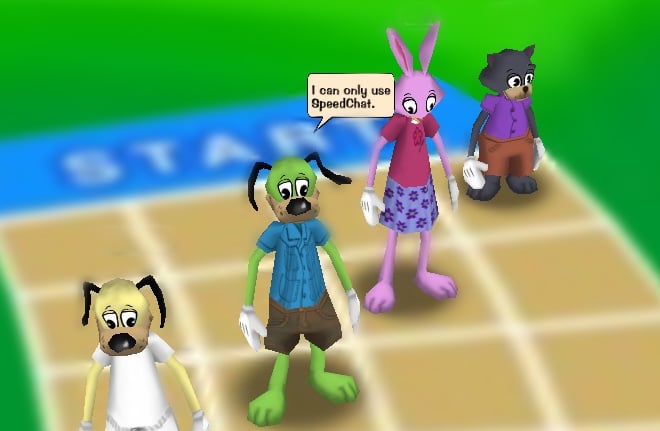 In case you couldn't tell, the above was written completely using SpeedChat Phrases. We've been trying to clean up and rework SpeedChat, and we're confident that SpeedChat is much easier to use than it was three days ago while still keeping a safe way for Toons to talk to each other.
Thanks to your suggestions, many phrases have been added and moved around. This marks the end of our major SpeedChat rework, but we're not stopping here! Keep your eyes peeled as development continues, because no doubt there will be more to come. My ears are open for feedback!
We'd also like to give a thank you for an awesome Halloween yesterday. It was fun to see everyone running around as black cats thanks to Flippy. He
might
not throw buckets of paint on you anymore, but I'm sure we'll be seeing a lot more of Flippy as he continues his campaign. You know how politicians are.
Stick around, because as we announced in our first post: We will be pushing a major update every Saturday to go along with the minor daily updates. In the meantime, enjoy playing the
Race Game
!
November 1, 2013 [ttr-alpha-gc6a6c23]
Maintenance:
? Fix a bug that would occasionally cause the camera to act up during the Cannon Game.
? Server Stability

Features:
? Implement the Race Game. Be sure to head over to our Alpha forum to vote for the next game!
? The Chatless Update is complete! More phrases have been added and cleaned up based on your feedback.

---
Comments
Sorry! Comments are closed.
---
---
---
---
---
---
---
---
---
---
---
---
---
---
---
---
---
---
---
---
---
---
---
---
---
---
---
---
---
---
---
---
---
---
---
---
---
---
---
---
---
---
---
---
---
---
---
---
---
---
---
---
---
---
---
---
---
---
---
---
---
---
---
---
---
---
---
---
---
---
---
---
---
---
---
---
---
---
---
---
---
---
Back To Top