More News
Daily Alpha Update: Black Cat Attack!
Posted by Shockley on October 31, 2013 at 2:00 PM
Hello Toons! Shockley here.
For those who don't know me, I'm Toontown Rewritten's Top Toony Test Technician, Nutty Network Nerd, and Systems Setter-upper!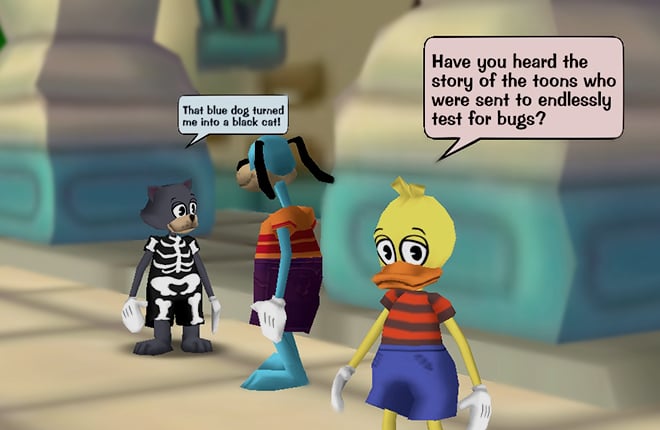 You all know what today is, I'm sure. The spookiest day of the year is upon us, where Toons go door to door to receive nothing but jellybeans. I get the chills just thinking about it. This year there appears to be a twist, however. I've heard that a local blue dog named Flippy has begun his campaign for President of Toontown, and what better way to start it than by throwing some buckets of black paint on toons?

You'll find Flippy standing around Toontown Central throughout the day. Simply approach him and yell your newly-located "Toontastic!" Phrase to get covered in permanent black paint. Ah, the joys of Halloween!


October 31, 2013 [ttr-alpha-g2a2346a]
Maintenance:
? Fix a nasty District Reset bug that happens when you disconnect while on a departing Trolley.
? Updated more game sounds to OGG format for smaller size and future Linux support

Features:
? In the spirit of Halloween, Flippy is campaigning in Toontown Central by turning cats into black cats.
? By popular demand, Minnie has offered to teach a dance class. You can reach her studio through the Trolley.
? The Chatless Update continues! Popular phrases have been added and rearranged. Send us some feedback to see what other phrases you want in the game!

---
Comments
Sorry! Comments are closed.
---
---
---
---
---
---
---
---
---
---
---
---
---
---
---
---
---
---
---
---
---
---
---
---
---
---
---
---
---
---
---
---
---
---
---
---
---
---
---
---
---
---
---
---
---
---
---
---
---
---
---
---
---
---
---
---
---
---
---
---
---
---
---
---
---
---
---
---
---
---
---
---
---
---
---
---
---
---
---
---
---
---
---
---
---
---
---
---
---
---
---
---
---
---
---
---
---
---
---
---
---
---
---
---
---
---
---
---
---
---
---
---
---
---
---
---
---
---
---
---
---
---
---
---
---
---
---
---
---
---
---
---
---
---
---
---
---
---
---
---
---
---
---
---
---
---
---
---
---
---
---
---
---
---
---
---
---
---
---
---
---
---
---
---
---
---
---
---
---
---
---
---
---
---
---
---
---
---
---
---
---
---
---
---
---
---
---
---
---
---
Back To Top