More News
Introducing Public Relations' Newest Roles!
Posted by The Toontown Team on November 19, 2022 at 2:30 PM
Hello to the amazing Toontown community! Since launching our official Toontown Rewritten Discord Server and the Partner Program in 2020, we've been collecting your feedback, ideas, bug reports, and so much more.
For the majority of 2022, Public Relations has taken a step back to reflect. With how much the community has grown, we've thought a lot about how to meet the needs of the community. The community deserves the best — to do that, we'll need to expand our size. That's where YOU come in, fellow Toons!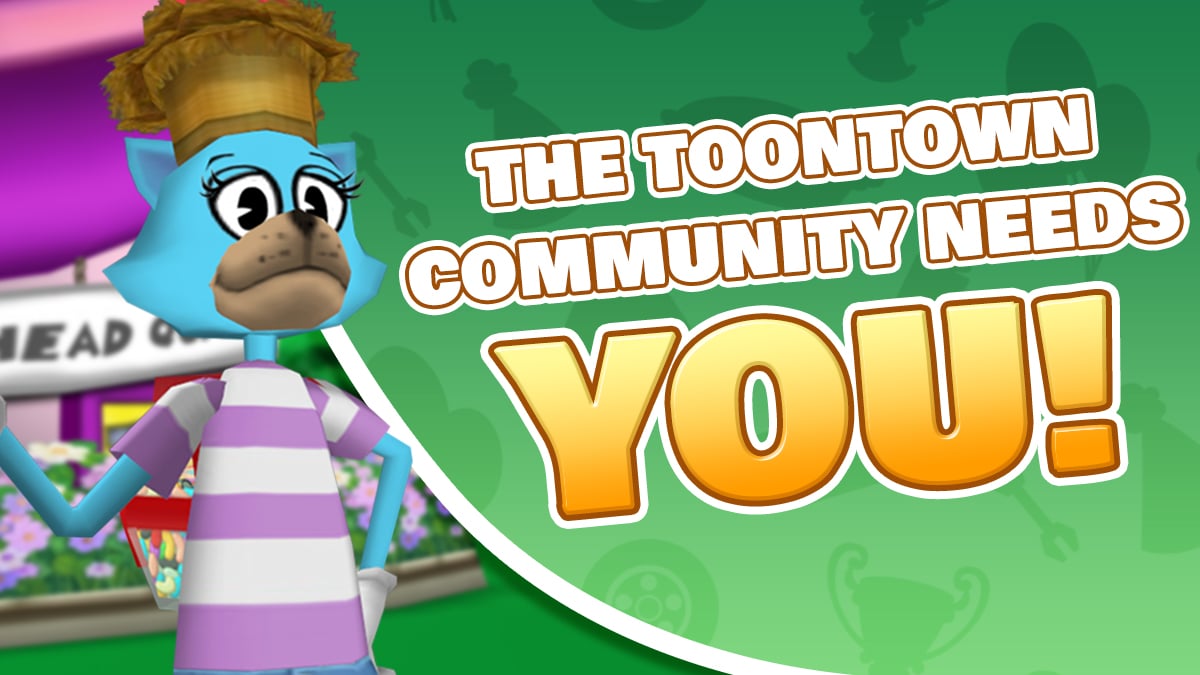 Today, we're introducing four brand-new roles (yes, four!) and saying goodbye to our old Community Representative role. Before diving into these new roles, we are currently only looking to fulfill two of these new roles. Fear not, for the other two inactive roles will become active soon enough into the new year! So definitely keep those eyes peeled for an announcement blog post when we cross that bridge to explain more in-depth about the other roles.
For now, let's cover the current ACTIVE positions we need to fill!
---
Community Ambassador
The new iteration of the Community Representative role. These Toons are the ones who represent the Toontown Rewritten Team in the public sphere. The main responsibilities include taking time to interact with the community online and on social media, such as Reddit, YouTube, Discord, and forums, and in-game on their Staff and Cast Member Toons.
If you love to interact and connect with the community, understand the game's current and past happenings, and want to promote positive change, this role is for you! As a Community Ambassador, your duties include some of the following:
Keeping your gloves on the pulse! This means being aware of what the community is saying and what the wants and needs are.

Playing in-game as a Cast Member and your Staff Toon (basically, your main Toon you play daily!), attending Partner events, and maybe even coming up with some fun ideas on how to rally the community together.




Must be able to talk to the community actively via social media, Discord, or in-game!
Become a Community Ambassador!
---
Partner Program Manager
Are you someone who loves to go to in-game events hosted by one of our Partners? Do you wish you could be hands-on in planning events, collecting Partner feedback, and determining how the Team can best assist Partners? This role might be for you!
Toons in this role will be expected to maintain the Partner Program — working closely with Partners on their communities and content. They're a voice and a liaison for Partners, taking the time necessary to help them grow their communities and promote their content. They're a connection between Partners and the rest of the Toontown Rewritten team.
As a Partner Program Manager, you will be in charge of some of the following duties:
Work closely with Partners on any and all issues, feedback, and development concerns.
Helping out Partners figure out the best course of action to grow their communities and benefit their content specifically!
Working with the Toontown Rewritten Team, advising and brainstorming how to best help our Partners.
Become a Partner Program Manager!
---
The two roles above are our top priority to fill as we move into the new year. We want to create stronger relationships with the community, and the only way we can achieve this huge goal is by having YOU join our growing team!
Due to the nature of these roles being all-new, you might even have amazing ideas to bring to the table we haven't even explored yet. We want to hear it all as we continue to expand!
If this sounds right up your alley, please click the links above to apply today! Just one question left: Are YOU Toon Enough?
Disclaimer: You must be 16 years of age or older to apply to any Public Relations role. Toontown Rewritten is a volunteer-run effort, with no compensation provided to staff members.
---
Comments
Sorry! Comments are closed.
---
---
---
---
---
Back To Top