More News
The TOONY Awards are Coming to Community Day!
Posted by The Toontown Team on July 24, 2019 at 3:00 PM
Last month, we announced that Community Day would be coming to ToonFest at ReplayFX 2019. If you're a creative member of the Toontown community, Community Day was made for you! Whether you're making a Costume, Art, or even a Video, we've got you covered. You don't even have to be attending ToonFest to participate! Community Day is the perfect way to celebrate the community -- but how do we reward the best of the best content creators?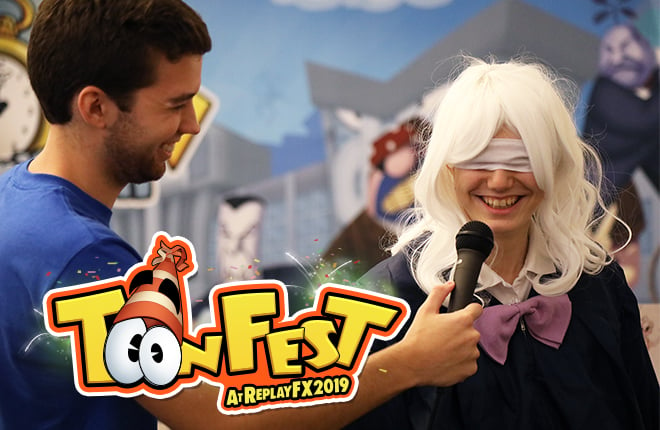 The answer, of course, is an awards show like no other -- one inspired by the Toontastic antics only Toons can present. We're referring, of course, to the TOONYs! This year, the first annual TOONYs will take place on Saturday, August 3rd from 7:30 - 8:30 PM EDT! Do you want your chance at fame, glory, and a Toontown Prize Pack? All you've gotta do is flex your creative muscles and create something absolutely Toontastic!
To celebrate the announcement of the TOONY Awards, we're extending the deadline for submissions until Tuesday, July 30th. In other words, if you're just hearing about Community Day now, it's not too late to make something that would make even the most cranky of Cogs crack a smile.
As a reminder, here's the guidelines for Community Day at ToonFest 2019:
---
Community Day Guidelines
Submissions should be directly related to Toontown Rewritten, but feel free to go in any direction you want! Whether it be Toons, Cogs, Doodles, or even a dancing mailbox -- when it comes to Toontown the sky is the limit.


All submissions will be judged 25% on presentation and artistic quality, 25% on originality, and 50% on Toon-inspired humor and inspiration by a panel of sufficiently silly Toontown Team Members.


At a toss-up between creating a costume or a video? You can enter as many categories as you want!


The three best online submissions from each category will be contacted after ToonFest is over to receive a Toontown Prize Pack! If you win and are present at ToonFest, you'll be able to claim your prize while attending the event.


Online Submissions
All Video, Artwork, and Comic entries must be submitted online even if you are attending ToonFest! To enter the Costume category, you can either follow the online submission guidelines below or show up in person with your costume on Saturday, August 3rd.


There are two ways to submit an online entry:

(1) Create a public post with a picture or link to your entry on Facebook, Twitter, or Instagram with the hashtag "#ToonEnough".

(2) Email [email protected] with the subject "Community Day - [Category Name Here]" and a picture or link to your entry.


For all entries, whether posted online or sent via email, make sure to include both your Real Name and your Toon Name!


All online entries must be submitted by 11:59 PM PST on July 30th, one week before Community Day begins.


Costumes
If you're attending ToonFest, all you need to do is show up in your costume on Saturday, August 3! Registration will be available throughout the day, just stop by our booth and talk to a staff member about getting signed up.


If you can't attend ToonFest, submit a picture of your costume using the online submission guidelines by Saturday, July 30.


The three best in-person costumes at ToonFest 2019 will receive an exclusive prize and the chance to throw one of the biggest pies at the Annual Toontown Pie Toss.


Videos
To enter a video for Community Day, create an up to three minutes long Toontown Short about any story you can imagine! It can be an advertisement, comedy, backstory -- anything relating to Toontown.


Videos should not contain any copyrighted music, images, or other content. You are welcome to use any content from Toontown, including music made for our videos on the Toontown Rewritten YouTube channel!


Once you've created your video, upload it to YouTube and include the link in your social media post or email to enter the contest.


Artwork
Any sort of digital, physical, sketched, or fully illustrated artwork can be submitted for Community Day!


Submissions should be entirely new artwork created for the Community Day contest. Artwork that has been previously posted online before the announcement of this contest will be disqualified.


Comics
If you're a creative writer, this category is for you! We wanted to give the writers in our community the attention they deserve, however it would be a bit too much to read an entire short story at the winner showcase. Instead, we're looking for short comics to showcase your most compelling Toontown story.


Comics will be judged primarily on story, rather than artistic presentation.


The visuals of your comic can be anything from quick sketches to in-game screenshots. Check out our Gone Fission comic for an example! (This comic is much longer than what we're looking for in submissions.)


As a general guideline, try to keep your comics to roughly one page or less. It should be closer to the length of a newspaper comic than a full comicbook.


---
Once again, if you have any questions about the specifics of the rules, feel free to ask our wonderful support Toons over at [email protected] and you'll be answered as fast as can be!
For now, it's time for the folks on the Toontown Team to prepare for the awards show. This may not be a "black tie" event, but we've got plenty of pizzazz to prepare! We can't wait to see everyone again at ToonFest.
---
Comments
Sorry! Comments are closed.
---
---
---
---
---
---
---
---
---
---
---
---
---
---
---
---
---
---
Back To Top