More News
Come to Community Day at ToonFest!
Posted by The Toontown Team on June 22, 2019 at 3:00 PM
Calling ALL Toons! We've got some exciting news for any creative folks out in the community, even if you're not coming to ToonFest at ReplayFX 2019. This year, we'll be hosting a Costume, Video, Art, and Comic Contest all in one big event! Better start brainstorming, because here comes Community Day at ToonFest!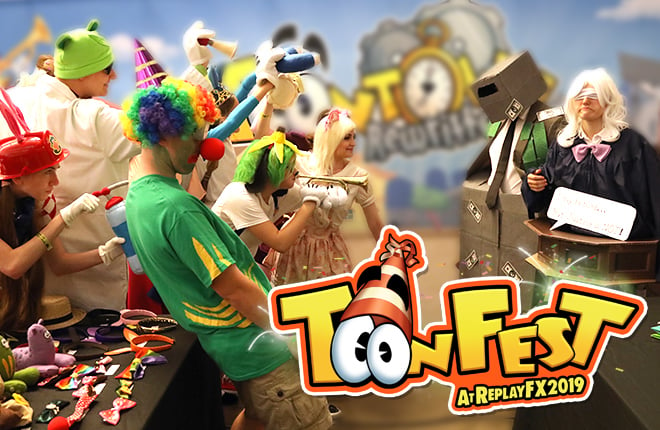 We need your help to fill ToonFest at ReplayFX with the most TOONTASTIC expressions of creativity that the city of Pittsburgh has ever seen! Show off your Toontown spirit with handmade gizmos and get-ups, and watch your fellow Toons display some crafts of their own.
No way to ToonFest? No worries! Just like last year, we'll be accepting online entries. Send in your submissions through the "Wild Wacky Web" using the instructions in the rules below, and you'll have a chance to win a Toontown Prize Pack!
We know that many talented artists want to be a part of the contests, but aren't really comfortable displaying their creations. Sharing your work can be intimidating! Luckily, this day is all about celebrating the Toontown Community at any level of quality. Even if you aren't the most experienced creator, you may still have a chance of winning the contest just for your creativity! Ideas matter to us more than material.
Now, enough chit chat. ToonFest is coming up quick, and you need to hop on the idea train, pronto! Here's how you can join in on the fun:


---
Community Day Guidelines
Submissions should be directly related to Toontown Rewritten, but feel free to go in any direction you want! Whether it be Toons, Cogs, Doodles, or even a dancing mailbox -- when it comes to Toontown the sky is the limit.


All submissions will be judged 25% on presentation and artistic quality, 25% on originality, and 50% on Toon-inspired humor and inspiration by a panel of sufficiently silly Toontown Team Members.


At a toss-up between creating a costume or a video? You can enter as many categories as you want!


The three best online submissions from each category will be contacted after ToonFest is over to receive a Toontown Prize Pack! If you win and are present at ToonFest, you'll be able to claim your prize while attending the event.


Online Submissions
All Video, Artwork, and Comic entries must be submitted online even if you are attending ToonFest! To enter the Costume category, you can either follow the online submission guidelines below or show up in person with your costume on Saturday, August 3rd.


There are two ways to submit an online entry:

(1) Create a public post with a picture or link to your entry on Facebook, Twitter, or Instagram with the hashtag "#ToonEnough".

(2) Email [email protected] with the subject "Community Day - [Category Name Here]" and a picture or link to your entry.


For all entries, whether posted online or sent via email, make sure to include both your Real Name and your Toon Name!


All online entries must be submitted by 11:59 PM PST on July 27th, one week before Community Day begins.


Costumes
If you're attending ToonFest, all you need to do is show up in your costume on Saturday, August 3! Registration will be available throughout the day, just stop by our booth and talk to a staff member about getting signed up.


If you can't attend ToonFest, submit a picture of your costume using the online submission guidelines by Saturday, July 27.


The three best in-person costumes at ToonFest 2019 will receive an exclusive prize and the chance to throw one of the biggest pies at the Annual Toontown Pie Toss.


Videos
To enter a video for Community Day, create an up to three minutes long Toontown Short about any story you can imagine! It can be an advertisement, comedy, backstory -- anything relating to Toontown.


Videos should not contain any copyrighted music, images, or other content. You are welcome to use any content from Toontown, including music made for our videos on the Toontown Rewritten YouTube channel!


Once you've created your video, upload it to YouTube and include the link in your social media post or email to enter the contest.


Artwork
Any sort of digital, physical, sketched, or fully illustrated artwork can be submitted for Community Day!


Submissions should be entirely new artwork created for the Community Day contest. Artwork that has been previously posted online before the announcement of this contest will be disqualified.


Comics
If you're a creative writer, this category is for you! We wanted to give the writers in our community the attention they deserve, however it would be a bit too much to read an entire short story at the winner showcase. Instead, we're looking for short comics to showcase your most compelling Toontown story.


Comics will be judged primarily on story, rather than artistic presentation.


The visuals of your comic can be anything from quick sketches to in-game screenshots. Check out our Gone Fission comic for an example! (This comic is much longer than what we're looking for in submissions.)


As a general guideline, try to keep your comics to roughly one page or less. It should be closer to the length of a newspaper comic than a full comicbook.


---
Phew! That's a lot of guidelines. If you have any questions, don't hesitate to contact [email protected] and we'll be happy to assist.
The winners of the contest will be announced and featured in an all-new Community Showcase at ToonFest, which will take place on Saturday, August 3rd. More details on this showcase will arrive closer to the event. If you're not at ToonFest, we'll be livestreaming the event so that everyone can join in on the fun!

There's not much time left! To learn more about ToonFest and purchase tickets, check out the ToonFest Information Page. If you already know that you're attending the event, feel free to RSVP on our Facebook Event Page. We'll see you there!

---
Comments
Sorry! Comments are closed.
---
---
---
---
---
---
---
---
---
---
---
---
---
---
Back To Top