More News
Watch the Biggest Toontown Pie Toss EVER!
Posted by The Toontown Team on May 15, 2018 at 4:00 PM
Sorry for the radio silence, Toontown! Some prankster thought it would be funny to buy up Clarabelle's entire stock of radios to send to their friend's mailbox. Even more importantly, all of us here on the Toontown Team are getting ready for the most exciting event of the entire year: ToonFest at ReplayFX 2018!
And of course, with that, one of the oldest and noblest of Toontown traditions...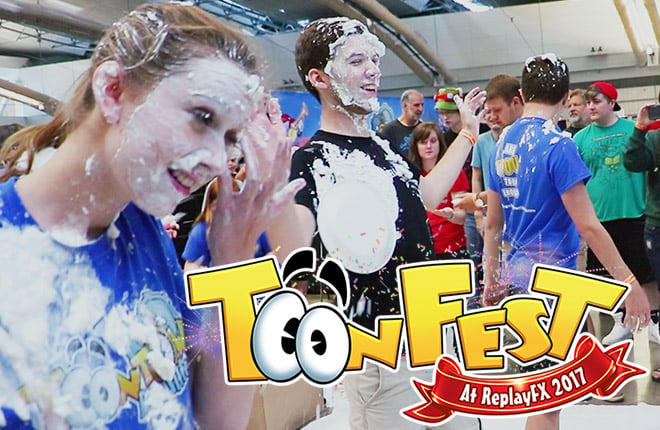 The Annual Toontown Pie Toss started as a community-created event during ToonFest at OMG!Con 2015, the very first real-world ToonFest since 2007, which took place in Owensboro, Kentucky. Two players brought three pies to throw at Joey, whom you may better know as Sir Max!
Since then, our pie toss has only grown. The 2016 attendees brought over 20 pies to be thrown at Joey, and 2017 brought our biggest pie toss EVER seen in the video above! It was so big, in fact, that we had to bring in two additional "Toon Enough" team members, Jenny (Lemondrop) and Jeremy (Fat McStink) to help Joey out.
Now, fellow Toons, it's time to make history again. From July 26-29 in Pittsburgh, Pennsylvania, ToonFest is coming back to SPLAT our records with more pies than ever before. The best part is: YOU can become a part of it. Joey is begging you not to, which means it must be a good idea!
We have tons of Toontastic activities planned for every day of the event with many surprises in store, especially for those looking for Toontown's next big announcement.




The Annual Toontown Pie Toss will take place on Sunday, July 29th at 12:00 PM EST. We'll bring the pies if you bring a few arms to throw them. (That means YOU!)
We hope to see you there! In the meantime, you can catch up on the perfect pie throws of the past and see other ToonFest footage on our YouTube channel. Stay TOONed for more information about ToonFest at ReplayFX 2018, and don't forget to book your tickets before it's too late!
---
Comments
Sorry! Comments are closed.
---
---
---
---
---
---
---
---
---
---
---
---
---
---
---
---
---
---
---
---
---
---
---
---
---
---
---
---
---
---
---
---
---
---
---
---
---
Back To Top