More News
Happy 15th Birthday, Toontown!
Posted by The Toontown Team on June 2, 2018 at 9:00 AM
On June 2nd, 2003, Disney's Toontown Online opened its doors for players all around the world. The evil Cogs proved to be no match for the millions of Toons who have called Toontown their home, and now, 15 years later, we're getting its driver's permit and celebrating its biggest birthday yet.
Some Toons began playing before the official release date, while some of us only began yesterday. Whether you're a seasoned pie-throwing veteran or still trying to find that Blackboard eraser in Toontown Central, we're all here to celebrate one thing: Fifteen Years of Toontown!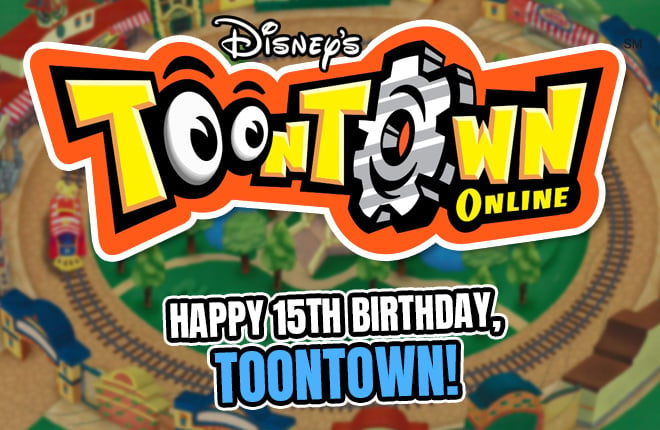 Toontown has been through a lot throughout its lifetime, and it's all still here today because of the Toontastic community behind it. Even Disney's official closure of Toontown Online in 2013 couldn't put an end to the cartoon chaos happening each and every day. Thanks to Toons like you, Toontown is still alive and well -- and soon to be receiving multiple MASSIVE expansions!
Every day this week, we'll be celebrating Toontown's 15th Birthday with new and exciting blog posts to give you a sneak peek of the future of Toontown.

For the first three days, we're showing you three brand new Backstage Blog posts to unveil never-before-seen content that we've been working on for 2018. We'll follow that with a story update from everyone's favorite sleuth, Samantha Spade, and you can be sure that the Cogs won't be far behind her!
We'll be topping off the celebrations next Saturday, June 9th, at 1:00 PM Toontown Time (PST), when we'll be hosting the first ever Official Toontown Team Livestream to answer YOUR questions about any of the content we've shown throughout the week, and the future of Toontown. We'll also be hopping in game to play, so don't miss it!
We're inviting you to join us to celebrate Toontown's 15th birthday with these exciting events, along with in-game fireworks and the most TOONTASTIC event of the year in Pittsburgh, PA from July 26-29. This week is all about showing how appreciative we are of Toontown and its former developers, as well as the Toontastic community (YOU!) who keep the game alive today!
Take this week to bust out the birthday cake, hop into Toontown, and celebrate with some seltzer and slapstick to help us say: Happy Birthday, Toontown!
---
Comments
Sorry! Comments are closed.
---
---
---
---
---
---
---
---
---
---
---
---
---
---
---
---
---
---
---
---
---
---
---
---
---
---
---
---
---
---
---
---
---
---
---
---
---
---
---
---
---
---
---
---
---
---
---
---
---
---
---
---
---
---
---
---
---
---
---
---
---
---
---
---
---
---
---
---
---
---
---
---
---
---
---
---
---
---
---
---
---
---
---
---
---
---
---
---
---
---
---
---
---
---
---
---
---
---
---
---
---
---
---
---
---
---
---
---
---
---
---
---
---
---
---
---
---
---
---
---
---
---
---
---
---
---
---
---
---
---
---
---
---
---
---
Back To Top