More News
Meet the Meter | Backstage Toontown
Posted by The Toontown Team on June 4, 2018 at 4:15 PM
We've got another exciting Toontown Backstage Column for you today, folks, where we dive into what's going on behind the scenes of Toontown Rewritten. Today's post is one you've all been waiting for, and we're extremely excited to finally talk about it!
One of our major projects for 2018 (but far from the largest!) has been redesigning a game element from Toontown Online that some adored, and others abhorred. After lots of planning, programming, and design -- we're confident that we've kept the great parts of this feature while replacing the less popular portions with expanded gameplay for both old and new players.
Toons of Toontown, it's time to Meet the Meter!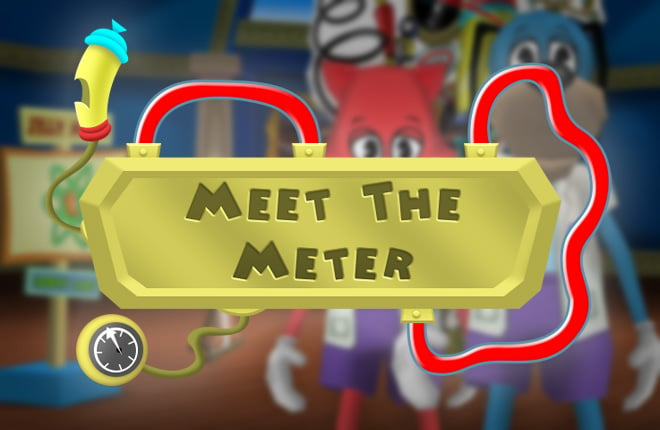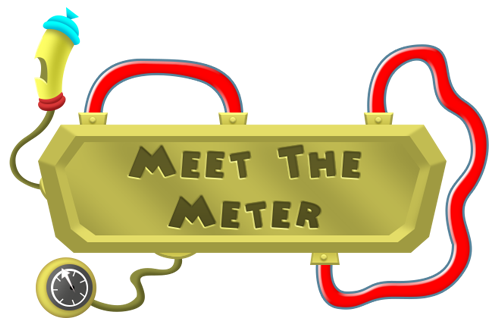 Toontown Online's Silly Meter
In Toontown Online, The Silly Meter was one of the final major updates added to the game. It was a showpiece that demonstrated efforts to modernize the game, and the developers had exciting plans for it!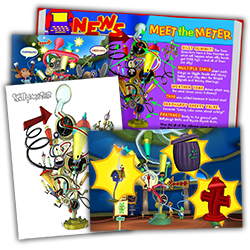 The original development plan was simple: Bring people back to the game with the spectacle of the Silly Meter, and keep them playing with new content and updated graphics. The Disney developers had big plans for Toontown, and the Silly Meter was just one step towards giving the game a proper revival.
Unfortunately, due to management changes happening at Disney Online, Toontown's future changed course. The Silly Meter, while visually fantastic, was mostly a static object that was controlled by scripted sequences. Every "Silly Meter Maxing" event was scheduled, rather than caused by the actions of players in the game. While fun, these events became fairly predictable once players figured this out.
Compounding the issue was that most people were unhappy with the other half of the Silly Meter update, which caused Street Props like Hydrants, Trashcans, and Mailboxes to help in battle. The animation work on these props is nothing short of a technical marvel, but the actual gameplay was cut short. The visuals were given priority over gameplay, dragging out Street Battles far longer than they should have been.
But what if there was a way to go back and fix the mistakes of the original Silly Meter? What if the plans of Toontown Online's developers didn't have to get cut short?
Making Silliness Sillier
To right the wrongs of the past, we've set out to fulfill the original vision of Toontown Online's Silly Meter to bring brand new gameplay and visual charm to Toontown. We've been working on this project for months, and we're finally ready to reveal what we've created!
The new and improved Silly Meter is completely dynamic, meaning everything you do in Toontown has a direct impact on the silly level. Host a party? That earns Silly Points! Earn a new gag? That earns Silly Points too! Defeat a Cog? You guessed it!
Your actions don't just affect the Silly Meter in your current district, but across ALL of Toontown. Of course, Toons aren't the only ones who can impact the Silly Meter. The Cogs are actively working to bring the silly levels of Toontown down with Invasions and Cog Buildings. It's up to YOU to fight back against the Cogs and make the Silly Meter hit maximum silliness!
Now, let's talk about the question on everyone's minds: What happens when the Silly Meter reaches maximum silliness?
Introducing Silly Teams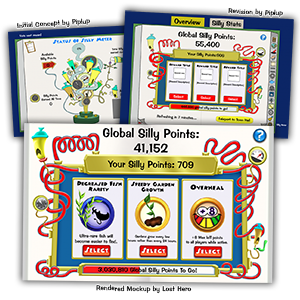 In the new Silliness Tracker page of your Shticker Book, you can view the current Silly Level as well as check out your "Silly Stats" to see how you've been earning Silly Points. But that's not all, folks!
The Silly Meter update is bringing a brand new feature to Toontown: Silly Teams. Each time that the Silly Meter begins tracking Toontown's silliness, three random teams will be available for Toons to join in the Shticker Book and put their Silly Points towards. These teams are represented by rewards, and whichever team has the most points when the Silly Meter maxes will activate the reward for ALL of Toontown!
Here are just a few examples of Silly Teams:


Doodle Trick Boost:
Jump! Backflip! Dance! Doodles perform tricks more often and earn more experience.


Decreased Fish Rarity:
Holy Mackerel! Rare fish are easier to find with this silly perk.


Speedy Garden Growth:
Make your gardens bloom faster than Daisy's to ramp up your garden experience.


Overheal:
Increased maximum Laff Points while the Silly Meter is maxed!
Silly Teams bring a bit of friendly competition to Toontown, allowing three teams to go head-to-head to earn the most Silly Points in order to activate their chosen reward. We're super excited about this new expansion, and can't wait to see the fun that comes from it!
Do you have an idea for a Silly Team you'd like to see? Let us know in the comments or on a community website and it may just be implemented!
Coming to a Toon Hall Near You
Are you tired of reading the word "silly" yet? Don't worry, this is the wrap up section!
Our new Silly Meter update is coming in 2018 to Toontown Rewritten. We still have work to do to finish the update, especially because of the extreme amount of testing and balancing that this update requires. We'll keep you updated about progress as time goes on, and you can be sure to hear more about the Silly Meter at ToonFest at ReplayFX 2018!
Can't wait for more? Then you'll want to check out our official Toontown Team Livestream on Saturday at 1:00 PM Toontown Time (PST). We'll be answering any sort of questions you have about this new expansion, as well as listening to your feedback on how to make it better.
Check back tomorrow for one final Backstage post detailing some of the things we're working on for Toontown in 2018. We hope that you're getting more and more excited about the future of Toontown!
---
Comments
Sorry! Comments are closed.
---
---
---
---
---
---
---
---
---
---
---
---
---
---
---
---
---
---
---
---
---
---
---
---
---
---
---
---
---
---
---
---
---
---
---
---
---
---
---
---
---
---
---
---
---
---
---
---
---
---
---
---
---
---
---
---
---
---
---
---
---
---
---
---
---
---
---
---
---
---
---
---
---
---
---
---
---
---
---
---
---
---
---
---
---
---
---
---
---
---
---
---
---
---
---
---
---
---
---
---
Back To Top