More News
Add Your "Lousy Lyrics" to the Chat Dictionary
Posted by Hedy on July 1, 2019 at 2:00 PM
Howdy, rruff! Hey, arf, over here! Owooo, the Toon Council's chat dictionary makes things difficult sometimes, doesn't it? Especially if you're like me and you're trying to write lyrics all day. Sometimes, I have a lousy lyric or two in mind for my discount sheet music, but when sounding them out all I can hear is rruff rruff rruff!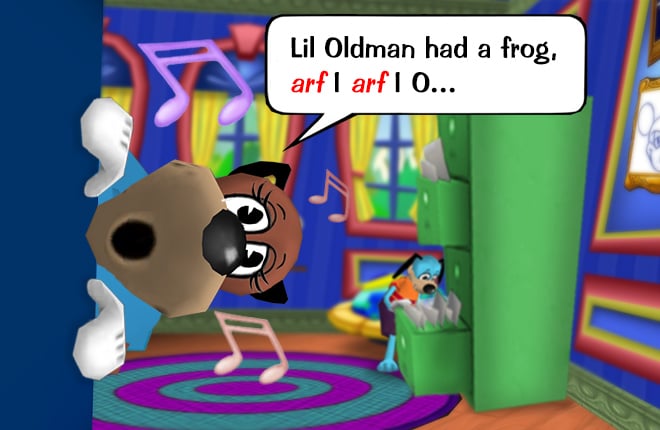 Singing in Toontown is essential to making friends, strategizing against the Cogs, and asking for help when you need it. I'm not the only one who sings when doing those things, right? So, I decided to take this issue straight to the Toon Council. Flippy told me that they're always looking to more words for Toons to say, but they need help from people like me and you!
While the most common phrases and names can already be spoken -- or sung -- there's always room for improvement. If you're like me and you find something Toon-friendly that you think is missing, well, you're in luck! I've been told we can send the Toon Council an email with our suggestions. I need your help to submit them so that we all have more words to sing with!
After submitting a suggestion, the Toon Council's dictionary-wielding experts will review the word and make sure it's sufficiently Toony before adding it to the chat dictionary. Whether it's your Toon name, your favorite catchphrase, or even a silly word you invented yourself -- you can submit it!
Maybe, just maybe, I could soon be singing to my heart's content. Owooo, I've already got a tune in my head with some new words to sing! I'm going to go start composing, but if you ever need some discount sheet music, just come see me in Minnie's Melodyland!
To submit chat requests, send an email to [email protected] with your suggestions! Sadly, not all suggestions can be accepted, as the Toon Council has to make sure the words can't be used in mean ways. Any accepted suggestions will be added next time Toontown has an update.
---
Comments
Sorry! Comments are closed.
---
---
---
---
---
---
---
---
---
---
---
---
---
---
---
---
---
---
---
---
---
---
---
---
---
---
---
---
---
---
---
---
Back To Top