More News
Smokey Joe's Firework Woes
Posted by Smokey Joe on July 4, 2019 at 9:00 AM
Happy Fourth of July, Toons! My name's Smokey Joe, owner of Used Firecrackers and best darnedest pyrotechnic in all of Toontown. Y'see, over the summer, demand for fireworks in Toontown skyrockets. Literally! Believe me when I say that I'm the most qualified Toon to talk about fireworks -- after all, they don't call me Smokey Joe for nothin'. Ev'ry little thing I do goes up in flames!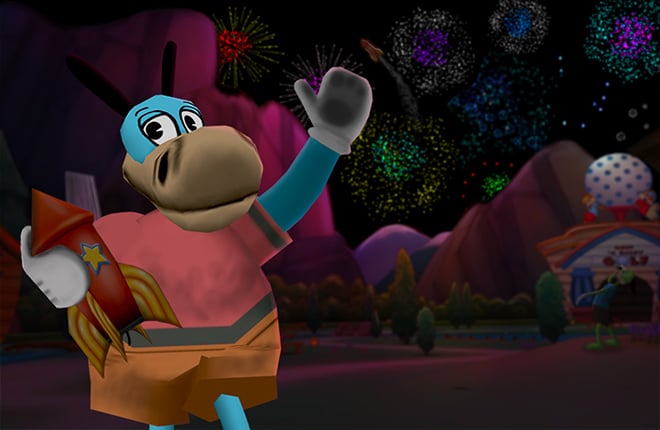 When originally lookin' at the forecast for how many fireworks I expected to sell this week, I just about exploded like a firecracker! Today's the Fourth, however, and not a single Toon has walked through the door. Out of curiosity, I checked out the Wild Wacky Web and found a Toontown review website -- Youch! (I ain't screaming for help, that's just what the website is called.) I read a review by one Toon who wrote about my store, Used Firecrackers, and it went like this:

"I'm a bit confused... How am I supposed to use a used firework? 2/5 Stars."
Honestly, I'm dumbfounded as to what they're trying to suggest! I sell top-quality products... I just happen to get them second-hand from Sir Max. He sells me these fireworks real cheap, too -- I just can't seem to get anyone to buy them at retail price! Maybe it's because they smell a little smokey.
To my joy and slight disappointment, the Toon Council is still planning on running their annual Summer Fireworks and purchased them from some other unknown competitor. From now until July 6th at 11:59 PM Toontown Time (PST), Fourth of July fireworks will take to Toontown's skies! Oddly enough, Sir Max is supposed to be giving me another shipment of fireworks after the Summer Fireworks end...
Let's just hope that my New Years' sales show better results. Happy Fourth of July, Toontown!
---
Comments
Sorry! Comments are closed.
---
---
---
---
---
---
---
---
---
---
---
---
---
---
---
---
---
---
---
---
---
---
---
---
---
---
---
---
Back To Top