More News
Celebrate ToonFest with Toontown Online Designers
Posted by The Toontown Team on June 7, 2019 at 12:00 PM
For over a decade and a half, Toontown has been a hub for players of all ages to harness their inner silliness and become the Toon they've always wanted to be. As of Sunday, June 2nd, Toontown is now officially 16 years old -- that's old enough to drive! (Don't worry, Goofy offered to give the town a crash course in driving.)
Toontown's Birthday isn't the only thing to celebrate this summer. Read on to learn more details about the upcoming Fifth Anniversary of ToonFest in Pittsburgh, Pennsylvania from August 1-4!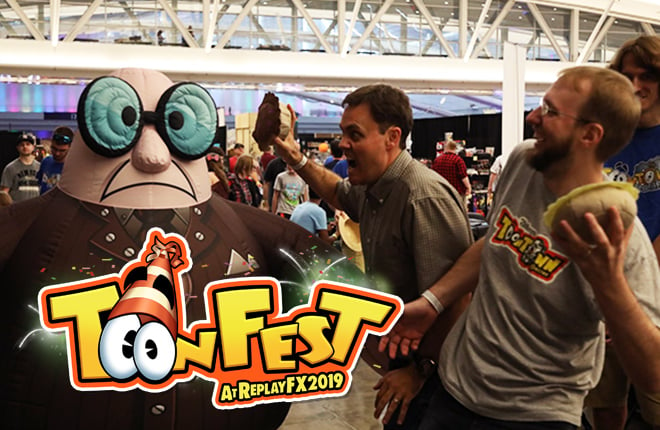 It's been almost five years since we hosted our very first ToonFest, and boy have we loved every single minute of it. It's an experience like no other to be surrounded by Toontown's biggest fans and the families who come with them. Enough about the past fun, though -- you want to hear about the exciting things we have planned for this big anniversary!

It's hard to say that you've truly been to ToonFest without witnessing Jesse Schell's real-world juggling act that was used to model the Toon-Up gag, or talking to Shawn Patton about his favorite Toontown Party activity. These two former Toontown Online developers are coming back again to celebrate and discuss the past, present, and future of Toontown!
Jesse Schell and Shawn Patton will be at ToonFest to answer questions and participate in a fun kick-off event from 4:00 PM to 7:00 PM on Thursday, August 1st.
Check out the bios below to learn more about Jesse and Shawn, or watch some of the videos from our YouTube Playlist to see their past shenanigans! You can also check out Schell Games to see some of the awesome games they have worked on outside of Toontown.

---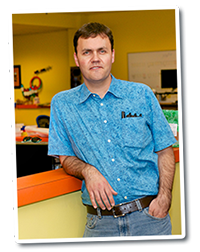 About Jesse Schell
Jesse Schell is not only one of the original developers behind Toontown Online, he was the lead designer who brought the Tooniverse to life. After developing Toontown, Jesse Schell left Walt Disney Imagineering to become Distinguished Professor of Entertainment Technology at Carnegie Mellon University.
In 2002, he also established his own game studio, Schell Games, which today is the largest full-service education and entertainment game development company in the United States. Jesse continues to follow Toontown and its fans, and you may even see his Toon, Jaymo, running around from time to time!
---

About Shawn Patton
Shawn Patton first worked on Toontown in 2002 when he helped to develop Create-a-Toon and some trolley games, including Match Minnie and the Ring Game. After that, he was heavily involved in the creation of Toontown Parties, and worked on both the mini-games and the party editor.
Shawn is currently a Principal Designer at Schell Games, where he has been an important part of the design team for the last seventeen years. Most recently, he served as Design Director on the company's latest VR escape-the-room puzzle game I Expect You To Die and the game's free expansion, First Class.
---
This is just the first of many events that we'll be announcing for ToonFest. Some will be returning favorites, like this one, and some will be brand new experiences that we can't wait to share with you. For the fifth anniversary, we're putting the emphasis on FUN!
Toontown Online would have closed its gates forever if it wasn't for folks like YOU who have continued to be "Toon Enough" for so many years. Come celebrate at ToonFest and help us keep Toontown's community alive for many more years to come!

To learn more about ToonFest and purchase tickets, check out the ToonFest Information Page. If you already know that you're attending the event, feel free to RSVP on our Facebook Event Page. We'll see you there!
---
Comments
Sorry! Comments are closed.
---
---
---
---
---
---
---
---
---
---
---
---
---
---
---
---
---
---
---
---
Back To Top