More News
Toons of the World, Finish Strong!
Posted by Lord Lowden Clear on May 31, 2019 at 4:00 PM
Good day, Toons! A very good day, in fact. Over the course of a month, with the combined effort of thousands of veteran Cog-busters and new recruits alike, we have successfully Crashed Cashbot Headquarters. There's only a few hours left until the Operation ends!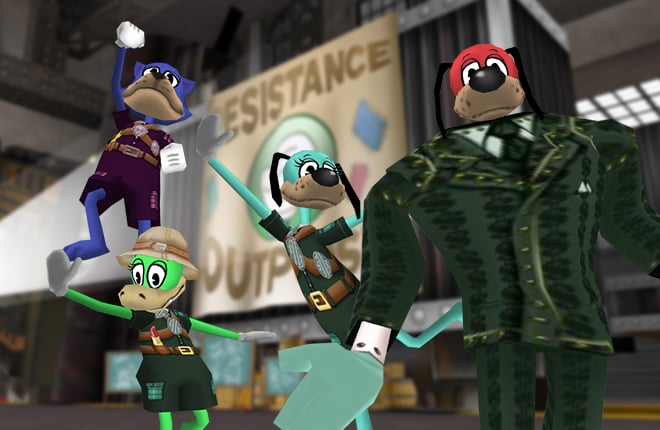 We've had spicy pies delivered, countless crayons recovered from those darn Penny Pinchers, and we crashed the Cashbot C.F.O. over 85,000 times! That's ten times more than the average month of Cashbot crushing.

That's not all: Not only does the C.F.O. have to replenish his stock of gold bars after 300,000 Mints were infiltrated, but we destroyed 2,500,000 Cashbots during the Operation. Unfortunately, not a single one of them had any insight on the C.F.O. Project, but there's no way the C.F.O. will be able to get his project off of the ground after the damage we dealt to their department.
Although, I dare say, there's still a few hours left of Operation: Crash Cashbot Headquarters! The Cashbots are analytical machines, and it won't be long before they pick up the pieces and attempt a retaliation. Let's finish this operation strong and keep the Cashbots from Number Crunching in peace for as long as we can!
We may never know what the C.F.O. Project was, but I doubt we have to worry about it any longer. After the Operation ends, we can rest and return to our day to day lives taking care of Toontown. Until next time, keep them busting -- with laughter!
Lord Lowden Clear
Leader of the Toon Resistance
---
Comments
Sorry! Comments are closed.
---
---
---
---
---
---
---
---
---
---
---
---
---
---
---
---
---
---
---
---
---
---
---
---
---
---
---
---
---
---
---
---
---
---
---
---
---
---
---
---
---
---
---
---
---
---
---
---
---
---
---
---
---
---
---
---
---
---
---
---
---
---
---
---
---
---
---
---
---
Back To Top