More News
New Events & The Toontastic Timetable! | ToonFest 2019
Posted by The Toontown Team on July 26, 2019 at 2:30 PM
In less than a week, Toontown will be hosting it's grandest celebration yet: ToonFest at ReplayFX 2019! We have all sorts of new activities and surprises planned for the Fifth Anniversary of ToonFest, and we can't wait for YOU to join us. Even if you can't attend, be sure to check out our livestreams throughout the event!
Our full event schedule is posted below, but first, let's talk about the brand new events coming this year...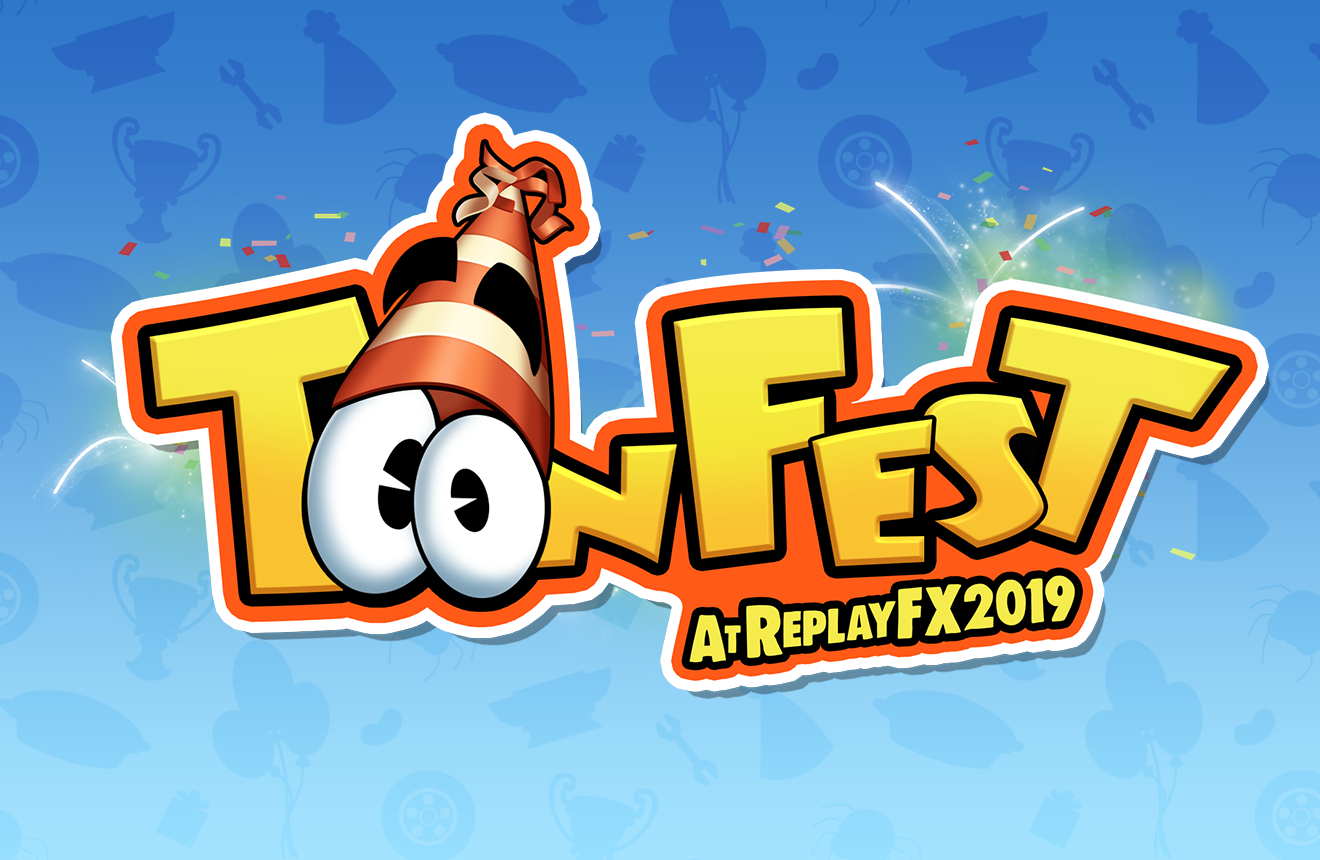 Introducing Backstage Workshops
For the first time, we're going to give you a sneak peak into every aspect of how Toontown works! Folks from the Toontown Team will be hosting interactive Backstage Workshops that focus on specific topics such as Concept Art, Writing, Moderation, and more!
If that's not enough for you, some of these Backstage events are going to be interactive. If you're lucky enough to come to these events during ToonFest this year, you'll play a part in making a brand new piece of furniture for Toon Estates, from start to finish! Pretty cool, right?
These Backstage Workshops aren't the only new events coming to ToonFest. If you haven't seen it yet, check out our blog post about The TOONY Awards!
Event Schedule
Below, you'll find the full event schedule for ToonFest at ReplayFX 2019. Events that will be livestreamed are bolded, and most other events will be uploaded at a later date.
If you're attending ToonFest, don't worry about printing out this list! We'll have flyers at our booth with the same information that you can carry with you.
(All times are in EDT.)
---
Thursday

Meet & Greet

11:00 AM - 11:30 AM

Welcome to ToonFest! Meet the Toontown Team and hear about all of the fun events and activities planned for this weekend.

Backstage: The First Sketch

1:00 PM

To create something new for an online game, where do you begin? Help the Concept Artists sketch a new item for Toontown!

Backstage: Talk Like a Toon

3:00 PM

Toontown's writers dive into the wacky words that bring Toontown to life. By the end of this workshop, you should be able to talk like a Toon... Or even a Cog!

ToonFest: Kickoff with Schell Games

4:00 PM - 7:00 PM

Game industry experts and former developers of Disney's Toontown Online, Jesse Schell and Shawn Patton, host fun activities and Q&A to kick off Toontown's biggest annual gathering!

Backstage: Modeling Mania

8:00 PM

Presto, change-o! Toontown's 3D Modelers reveal the magic of turning a 2D concept into a 3D model made for the game.
Friday

Backstage: Protecting Toontown

11:00 AM

It's not all seltzer and slapstick in Toontown! The Toontown Moderators talk about protecting a family-friendly MMO, and how YOU can help.

Backstage: Painting a Prop

1:00 PM

How do you paint an object in a virtual world? Join the Texture Artists as they put the paint on a new prop for Toontown!

The Main Event

3:00 PM - 4:00 PM

It's the event every Toon has been waiting for. Get the full scoop on brand new updates coming to Toontown Rewritten, as well as secret behind-the-scenes content straight from the Toontown Team!

Backstage: Cinematoongraphy

6:00 PM

Light, Camera, Action! Come along to this workshop to learn how Toontown's Video Editors create their cartoons.

Backstage: Toontown's Code & QA

8:00 PM

What does it take to make an MMO, and what happens when it goes wrong? Take a look at the Tooniverse like you've never seen it before!
Saturday

Backstage: Animating an Object

11:00 AM

Animation is a key component to any game - especially one as wacky as Toontown! Watch as our Animators bring a static 3D object to life.

Q&A with the Toontown Team

2:00 PM - 3:00 PM

Want know more about the silliness that happens behind the scenes of Toontown? Bring your questions, and we might have answers!

Backstage: Creating Cartoons

4:00 PM

Want to learn more about how the official art is created? Join our Artists as they dive into the process of creating a Toontown cartoon!

Backstage: Tales of Mail

6:00 PM

With hundreds of emails every day, Postmaster Pete has his work cut out for him! Hear the unsung heroes of Toontown Support talk about how they handle it all.

The TOONYs

7:30 PM - 8:30 PM

The TOONYs are a celebration of the best part of Toontown: Its fans! Join us as we judge the best artwork, videos, comics, and cosplay of Community Day.
Sunday

Annual Pie Toss

11:00 AM

Grab FREE pies to throw at the largest pie toss to ever make a SPLAT in Pittsburgh! This is an event for Toons of all ages.

Backstage: Toon News (for the Amused!)

1:00 PM

Extra! Extra! Read all about it! Help write the silliest story ever to hit the Toontown Blog in this interactive workshop with the Toontown writers.

Backstage: Joining the Toontown Team

3:00 PM

To close out our Backstage workshops, we want to talk about YOU! Stop by for tips, tricks, and advice about how to join the Toontown Team.
---
We can't wait to see you at ToonFest, and to follow along with you online! More information about the livestreams will be posted next week, but you can make sure you don't miss a moment by subscribing to our YouTube Channel or following us on Twitch.
Stay TOONed for more information!
---
Comments
Sorry! Comments are closed.
---
---
---
---
---
---
---
---
---
---
---
---
---
---
---
---
---
---
---
---
---
---
---
---
---
---
---
---
---
---
Back To Top