More News
Welcome to ToonFest! | ToonFest 2019
Posted by The Toontown Team on August 1, 2019 at 7:00 AM
Welcome, Toons of the World, to the fifth annual ToonFest at ReplayFX 2019!
This year we're celebrating our biggest bash yet, the Fifth Anniversary of ToonFest! We started back with ToonFest at OMG!Con 2015 in Owensboro, and now we're in heart of Pittsburgh to celebrate ToonFest at ReplayFX 2019.
To kick things off today, former Toontown Online developers, Jesse Schell and Shawn Patton of Schell Games, will be at the Toontown booth between 4:00 and 7:00 PM EDT. We'll be live streaming part of their visit starting at 5:00 PM EDT, so drop in to see the wild wackiness!


Watch on YouTube Watch on Twitch
This may be the third year in a row that we've been lucky enough to have Jesse and Shawn join us, but we're still incredibly happy to see them return yet again. They've been there for so much of Toontown's life, from Match Minnie, to Toon Parties, to Goofy Speedway and more!
We've got more up our sleeves both for today and the rest of ToonFest. As a refresher, the jam-packed schedule can be found here!
---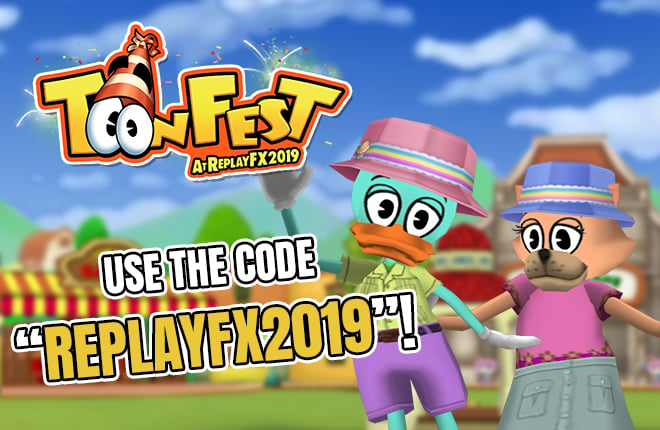 For those of you at home, we've got a special noggin-topper just for you! There's no accessory more dapper than a hat, of course. From now until August 11th you can redeem the code "replayfx2019" in your Shticker Book to unlock two brand-new items for your Toon!
Above all, we'd like to give a great big ol' Toontown 'Thank You!' to everyone for allowing us to put on this Toontastic show for five years. If you plan on coming to ToonFest, you're in for an absolute blast. To those of you at home, this will also be the best year yet! We'll be livestreaming all of the bolded events on the schedule -- but there's plenty more to see on our social media pages. Be sure to keep an eye out on our social media and our livestream page, which can always be found at toon.town/live!
We'll be back tomorrow with another daily ToonFest post. Stay TOONed!
---
Comments
Sorry! Comments are closed.
---
---
---
---
---
---
---
---
---
---
---
---
---
---
---
---
---
---
---
---
---
---
---
---
---
---
---
---
---
---
---
---
Back To Top