More News
Toontown Tweaks: Probably Probable Probabilities
Posted by Hawkheart on January 30, 2015 at 2:15 PM
Heyo Toons, how's Fish Bingo been?
It's been years since my visit to the
Fish Bingo Controller
, despite my formal title as official Toon Trooper in charge of Bingo Operation. Years is much to long of a wait, with so many of its mysteries left unanswered.
How did it work? Who paid the beans? Why is an empty chair in charge of the machine?
It was time for a revisit. It was time to venture back into those hallways and find that dear machine full of fish-filled answers. And you won't believe what I found...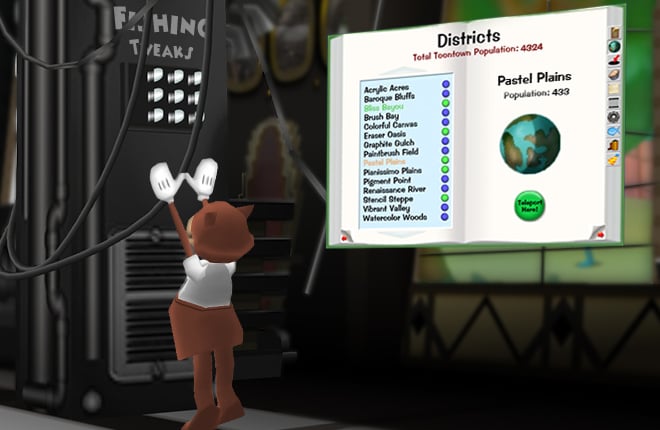 Each time I've asked Flippy or the other Troopers about this Bingo room, they've never heard anything about it. I even mapped out where I went last time, and it was nowhere to be found! At long last, I tripped over some miscellaneous boards lying on the floor
(Toon Hall construction is going swimmingly, by the way)
and stumbled into that very room.
After inspecting its controls and being careful not to interfere with the big button that makes the machine work, I noticed a series of knobs that seemed to control the ponds around Toontown. One of the dials that controlled water flow had the labels "Pond, "River", "Flood", and "Noah's Ark" -- but I saw one that seemed a tad more important. By turning the knob by just a hair, The amount of fish in Toontown's ponds were made
ever so slightly easier to find!
For a fish enthusiast like me, just a tiny bit of a percentage higher makes fishing much less of a chore while still keeping it fun and challenging. For those who aren't fishing enthusiasts -- a little birdie told me that
Professor Ivy
created newly sharpened shovels that cut the
Gardening animation time in half
, and also that the Toon Council has handed out a
redesigned District Page
for the Shtickerbook.
I poked my head in to see the new page, and although not quite up to par with my fishing tweak, it's looking quite well. By clicking on any district, the page will now show stats such as
District Population
and
Invasion Status
right on your Shtickerbook page.
Grab your rods, shovels, and hit the books - we've still got a few Tweaks left to come!
---
Comments
Sorry! Comments are closed.
---
---
---
---
---
---
---
---
---
---
---
---
---
---
---
---
---
---
---
---
---
---
---
---
---
---
---
---
---
---
---
---
---
---
---
---
---
---
---
---
---
---
---
---
---
---
---
---
---
---
---
---
---
---
---
---
---
---
---
---
---
---
---
---
---
---
---
---
---
---
---
---
---
---
---
---
---
---
---
---
---
---
---
---
---
---
---
---
---
---
---
---
---
---
---
---
---
---
---
---
---
---
---
---
---
---
---
---
---
---
---
---
---
---
---
---
---
---
---
---
---
---
---
---
Back To Top