More News
Toontown Tweaks: How Many Clicks to the Center?
Posted by Lil Oldman on January 31, 2015 at 12:00 PM
Ah, you are back. You have been hoping for tweaks, but no tweaks do I have to announce. Tweaks do not compare to the strategic elements I have chosen to speak of. You will need these for the ToonTasks for which I am to give you, so pay close attention. I am Lil Oldman. Let us begin.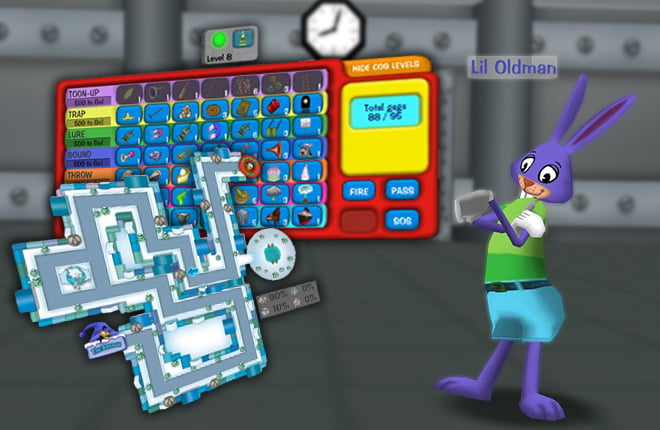 My reputation throughout Toontown has preceded me, I'm sure, for the apparent "difficult" tasks I have to give. Many of these tasks include the defeat of the Cog Buildings that plague our streets - yet Toons still complain as if they are doing my chores. Lumpy Cheese is a
necessity
, not a luxury.
Bah, be grateful, for if you have been diligent enough for your Cog Radar, the
maps of the street now include Cog Buildings
. If you have no radar, nonetheless,
a task building will be shown as grey
if it has been taken over by the suits. Do not thank me for this change - in my day, you would have walked the streets endlessly as it should be. Toons of today have grown spoiled by the technology of Loony Labs.
Onto the more important change for strategic Toons, such as myself, that wish not to bother with silly maps of the road: At times, the Cog's height proves to be too high to view their level. The battle camera shall now
adjust to the height of the tallest
to properly display their name. If this proves to be unsuccessful, you may now press the "Levels" button to
show the statistics of your opponents
. This display is optional, as to not clutter your strategic view.
As you grow closer to the center of the release of your tweaks, remember: Not even the wisest of owls could answer the question of the Tootsie Pop. Do not ask me what this means. I do not know.
---
Comments
Sorry! Comments are closed.
---
---
---
---
---
---
---
---
---
---
---
---
---
---
---
---
---
---
---
---
---
---
---
---
---
---
---
---
---
---
---
---
---
---
---
---
---
---
---
---
---
---
---
---
---
---
---
---
---
---
---
---
---
---
---
---
---
---
---
---
---
---
---
---
---
---
---
---
---
---
---
---
---
---
---
---
---
---
---
---
---
---
---
---
---
---
---
---
---
---
---
---
---
---
---
---
---
---
---
---
---
---
---
---
---
---
---
---
---
---
---
---
---
---
---
---
---
---
---
---
Back To Top