More News
Introducing Team LHAAFBBHQ
Posted by Team LHAAFBBHQ Mission Update on February 7, 2015 at 2:00 PM
After nearly a year since the Cogs invaded the fairly wacky land of Toontown, Toons have grown accustomed to their business tactics and how to counter them. Although the Toons have grown stronger, the Cogs have grown with them. Mysterious crates and clues traveling through the Cog HQs have led the Toon Resistance to believe that the construction of a
Bossbot HQ
is on the horizon.
Toons everywhere have become aware of the impending Headquarters' construction, which has prompted the Toon Resistance to go on a mission to find and infiltrate it before it's too late. It's time to introduce you to
Team LHAAFBBHQ!
(Let's Hunt Around And Find Bossbot Headquarters)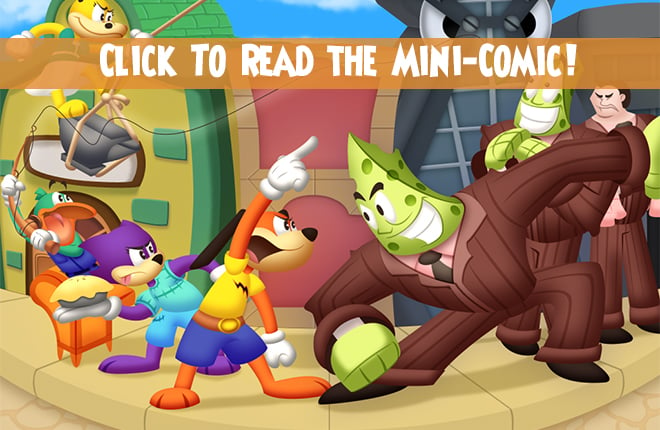 At the instruction of Resistance Ranger
Good Ol' Gil Giggles
, the fumbling team of four was selected for the most dangerous mission of their lives yet: Finding the dreaded Headquarters, which could be
anywhere
in Toontown.
With the team's brilliant minds, wacky actions, and unique ability to get themselves into trouble quite literally wherever they walk, Toontown's future is
probably
in good hands -- and even better gloves.
Click here
to read the opening Mini-comic to the story of Team LHAAFBBHQ's adventures, and watch the blog for more mission updates to come. The story, dear Toons, has only just begun.
---
Comments
Sorry! Comments are closed.
---
---
---
---
---
---
---
---
---
---
---
---
---
---
---
---
---
---
---
---
---
---
---
---
---
---
---
---
---
---
---
---
---
---
---
---
---
---
---
---
---
---
---
---
---
---
---
---
---
---
---
---
---
---
---
---
---
---
---
---
---
---
---
---
---
---
---
---
---
---
---
---
---
---
---
---
---
---
---
---
---
---
---
---
---
---
---
---
---
---
---
---
---
---
---
---
---
---
---
---
---
---
---
---
---
---
---
---
---
---
---
---
---
---
---
---
---
---
---
---
---
---
---
---
---
---
---
---
---
---
---
---
---
---
---
---
---
---
---
---
---
---
---
---
---
---
---
---
---
---
---
---
---
---
---
---
---
---
---
---
---
---
---
---
---
---
---
---
---
---
---
---
---
---
---
---
---
---
---
---
---
---
---
---
---
---
---
---
Back To Top