More News
Team LHAAFBBHQ: The Ginormous Golfer
Posted by Team LHAAFBBHQ Mission Update on March 5, 2015 at 11:30 AM
We last left our band of hilarious heroes in the grip of Resistance Ranger Whispering Willow - one of the undercover ops hiding out in Donald's Dreamland. Good ol' Gil Giggles had received word that intercepted packages from Cashbot HQ were being stored in her seemingly standard shop -- which could be the key to cracking the case and getting a lead on
Bossbot HQ
!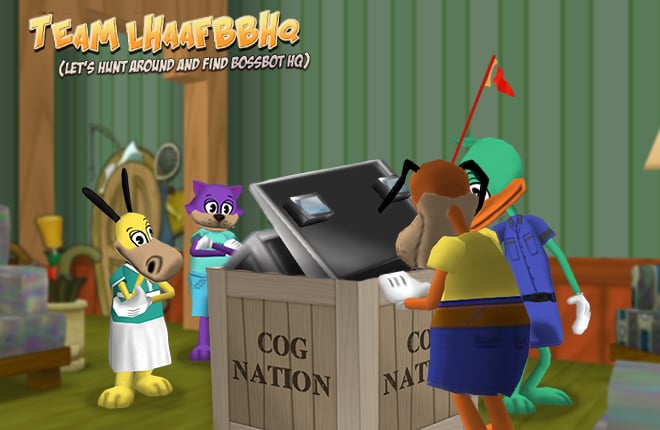 "Right this way. We can't let anyone see us in here." whispered Whispering Willow as she led Team LHAAFBBHQ inside. The Professor, however, having eyes as keen as can be, couldn't help but notice an unfamiliar formation of Cogs in the sky as he stumbled towards the door.
Whispering Willow opened up the closet door in the back (Did you know those doors could actually open?) and pulled out the three most horrid objects that the team could have imagined: A crate with the address of "Cog Nation", a sealed envelope splattered oil and the stamp of a gear, and worst of all --
'cherry' flavored cough syrup.
"This crate I'm about to show you, Toons, has been seen by a total of three eyes -- my two, and one from the left side of the Loanshark that I managed to take down on our mission into Cashbot HQ. There's no telling how many catnaps were missed in the recovery of it..."
Captain Rollie himself stepped forward as the box creaked open, unveiling their worst nightmare. "It's -- It's... Parts of an oversized golf kart?"
"WITH CONCISE INSTRUCTIONS!" The Professor exclaimed, trembling with fear.
"Instructions this precise could only be the work of the Micromanagers..." Silly Lily studied carefully. "Everyone knows that you
never
follow the instructions when assembling something as complex as this. How would anything ever get broken otherwise?"
"Now what could the Cogs want with a humongous Golf Kart? They wouldn't even fit." is what Captain Rollie would have said, had he not been interrupted by a narrow knock that most certainly was not the knock of any knowledgeable Resistance Ranger.
Knock...
"There's one..."
Knock...
"Oh no."
Knock.
"That's three! EVACUATE THE BUILDING!"
Whispering Willow quickly threw down a trap door and handed her oil-sputtered, gear-sealed letter to Captain Rollie. "This route will take you Toons straight over to Lullaby Lane. Make sure that this letter gets to Detective Lima safely, as your mission depends on it. Get there as swiftly and quickly as possible while us Rangers fight off this ambush."
"This is no mere ambush, Willow." said Good ol' Gil Giggles as he watched his trainees disappear into trap door. "This is a Mega-Invasion."

---
Comments
Sorry! Comments are closed.
---
---
---
---
---
---
---
---
---
---
---
---
---
---
---
---
---
---
---
---
---
---
---
---
---
---
---
---
---
---
---
---
---
---
---
---
---
---
---
---
---
---
---
---
---
---
---
---
---
---
---
---
---
---
---
---
---
---
---
---
---
---
---
---
Back To Top