More News
Meet the Toons of Team LHAAFBBHQ!
Posted by Team LHAAFBBHQ Mission Update on February 16, 2015 at 2:15 PM
The hunt for
Bossbot HQ
is on! Our Toons of the Team have begun their mission, with the assistance of Toon Resistance Ranger Good ol' Gil Giggles. But first, let's take a moment to meet Team 'Let's Hunt Around And Find Bossbot Headquarters' -- and we hope they do before it's too late!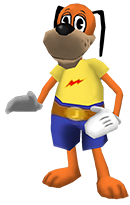 Captain Rollie Dandysnooker
Captain Rollie, the fairly fearless leader and one-of-a-kind captain of Team LHAAFBBHQ, is the most "Toon Enough" Toon you could ask for when it comes to bravery and boldness. His lack of sound judgement and natural tendency to stumble across some of the kookiest adventures in Toontown put him as number one on Lord Lowden Clear's list of leaders for the Team!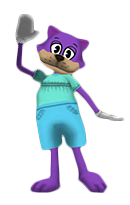 Colonel Violet Supergrooven
At the mere mention of Captain Rollie's second in command, Colonel Violet, the rattling of metal can be heard from miles away as the Cogs shake in their suits. Her pie throwing has been fine-tuned into a science, leaving some of the most powerful and accurate splats a Toon has ever thrown!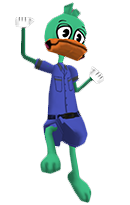 Prof. Von Fumblesplat
Some say that The Professor has a few screws loose -- but this master of gag mayhem has a strategic mind like no other to formulate plans against whatever sinister machines the Team may encounter in their adventures.
Silly Lily Gigglesnout
Rounding out the Team is our lady of Toontelligence extraordinaire, Silly Lily Gigglesnout. She may be a Toon of few words, but don't underestimate her knowledge of every gag, gear, and grin of both Cogs and Toons alike. Knowing every aspect of Toontown from the Central to the Headquarters, Silly Lily is the gal for whatever mysterious clues may appear in the Team's travels.
Team "LHAAFBBHQ" was last seen heading in the direction of Toontown's darkest Playground and a natural attractor of high-level Cogs: Donald's Dreamland -- hopefully, investigating for a clue and not a nap! Stay
TOONed
for the adventures that await!
---
Comments
Sorry! Comments are closed.
---
---
---
---
---
---
---
---
---
---
---
---
---
---
---
---
---
---
---
---
---
---
---
---
---
---
---
---
---
---
---
---
---
---
---
---
---
---
---
---
---
---
---
---
---
---
---
---
---
---
---
---
---
---
---
Back To Top