More News
Happy ValenToons Day!
Posted by Sir Max on February 14, 2015 at 2:00 PM
Oh, ValenToons Day. One of the most wonderful holidays of the year. The parties, the clothing, the pie-crossed lovers all around... You can really feel the pop-culture shaped hearts floating through the air past the overpriced flowers and chocolates of love -- and even more so, consumerism!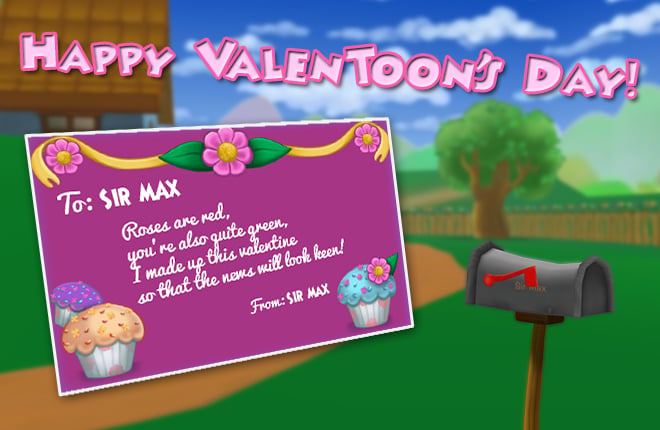 Yes, the spirit of spending is just floating around us through the various clothing and hearts available in the Cattlelog. Completely unrelated, I've even been
paid
to tell you that the winter accessories have made a quick comeback and will be available for purchase in your next Cattlelog! The cold weather isn't gone just yet, and I'm contractually obligated to make that news sound as exciting as possible!
Exclamation points!
Ah, but don't get me wrong. ValenToons Day is far from Cogish -- in fact, I even found a Valentine addressed to myself in my mailbox this morning! I have no idea who sent it at all, in fact. Some sort of unknown lover, it seems! I'm sure they're quite the charmer, as they have such a way with words.
By the way, don't forget to grab your heart-shaped picket signs for
the strike
. Don't eat too much chocolate - we'll need your strength for dismantling the oppression of society and finally getting that new blog. Have a great ValenToons Day!
February 14, 2015 [ttr-beta-v1.8.1]
Bugfixes:
• Cog HQ Factories now give the proper amount of Gag XP.
• Fix a bug where population values on the district page wouldn't update.
• Fix a bug where the Cog Level GUI would show incorrect Cogs.
• Fix a crash in the Toontorial relating to invasions.
• Fix a district reset relating to picnic tables.

Tweaks:
• The "Bronze" color is now known as "Apricot."
• Slightly improve positioning of winter accessories.
• You can now click on your current district to view population and invasion status as well.
• Cog HQ Bosses will no longer unstun when a Toon bumps into them.

Features:
• Due to popular demand, winter accessories are back for a limited time in the Cattlelog!

---
Comments
Sorry! Comments are closed.
---
---
---
---
---
---
---
---
---
---
---
---
---
---
---
---
---
---
---
---
---
---
---
---
---
---
---
---
---
---
---
---
---
---
---
---
---
---
---
---
---
---
---
---
---
---
---
---
---
---
---
---
---
---
---
---
---
---
---
---
---
---
---
---
---
---
---
---
---
---
Back To Top