More News
Daily Alpha Update: The Tale of the Fish Bingo Controller
Posted by Hawkheart on November 11, 2013 at 2:00 PM
Earlier today, a bunch of Toons informed me that the bingo game wasn't working for the second day in a row! How could I stand for this? At that moment I decided I must immediately remedy the problem. Fish Bingo is the best thing in Toontown, after all!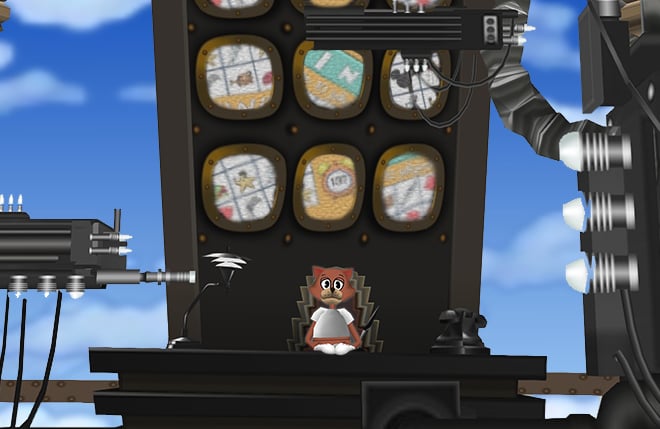 I made my way down to Toon Hall to figure out whose fault the lack of working bingo was. There was one problem, however: Toon Hall is big. Like,
really
big. And it being under construction makes it even worse. Running through the halls, I spent literally hours trying to find this Toon until I came to a door labeled "BINGO OPERATOR."
Once inside the room, I saw a desk with a very tall chair turned behind it. "Hey, you. Why isn't the game working?" I asked the unknown figure in the chair. No response. After twenty minutes of waiting, with no response, I started getting angry.
"WHY AREN'T YOU RESPONDING TO ME? WHY AREN'T YOU DOING YOUR JOB CORRECTLY!?" I yelled, outraged that one would let the glorious game of Fish Bingo be ruined.
No response.
I was fed up with this. The Toon in the chair was not only ignoring me, but he had not even turned his chair to look at me once! I decided that if he wasn't going to do his job, I would! I turned his chair around, only to reveal that there was no Toon at all. (Which explains the 20 minute silence...) I sat down in the chair, feeling the power rush through me. I am in charge. I am the
Bingo Operator
. I turned my chair towards the monitors and began my work. Bingo
will
be played.
As it turns out, Fish Bingo is automatically ran by this weird machine, needing nothing but a simple button press to work correctly. Oops.
I smashed some buttons together and turned a few knobs, so bingo is probably working again.
Probably
.
November 11, 2013 [ttr-alpha-g7138782]
Bugfixes:
? Fix game crash related to Fish Bingo
? Fix bug that caused Bingo cards to not update correctly
? Install a firmware update to Toon T.A.G.S from Loony Labs - Only slight visual improvements


---
Comments
Sorry! Comments are closed.
---
---
---
---
---
---
---
---
---
---
---
---
---
---
---
---
---
---
---
---
---
---
---
---
---
---
---
---
---
---
---
---
Back To Top