More News
Daily Alpha Update: Robot Thief
Posted by Sir Max on November 10, 2013 at 2:00 PM
The Toon Council had another meeting last night- it took some persuading, but I was finally able to get back in. (I'm telling you, these people just don't understand the beauty of Crane Dozers.)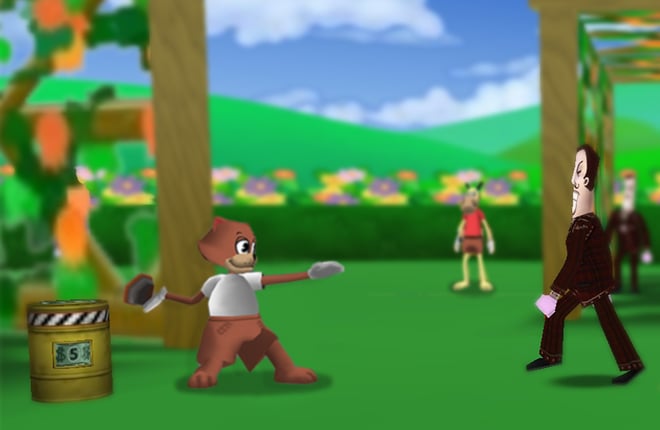 They opened up the meeting by congratulating everyone on their hard work these past two weeks on getting every Trolley Game completed, and that it was time to move on to the next thing. No, no, seriously. They said that every Trolley Game was
finished
. We hadn't even completed the new version of Cannon Tag!
"Fellas, fellas! Come on! There are still tons of possibilities. I know that you haven't been fans of my work in the past, but just sit back and listen to this one.
Robot Thief
."
I then continued to tell the greatest game ever conceived. The Toon Council stared in awe I told the story of Robot Thief: It was a story of love, of live, of death- and of
explosions
. It was truly beautiful. Some of the members began to weep softly, unable to imagine the magnitude of this. "Sir Max," they said, "When can we begin work on this game?"
I then showed them the budget needed to build Robot Thief and was instantly rejected. These guys. One minute they are in tears of joy, the next they are shooing you out the door. I can't wait for the elections to get these guys out. I was on my way out to find some more "public" property to build Robot Thief on, however one of guys from Loony Labs stopped me and told the Council that he believed the idea was worth the money. He even volunteered to have Loony Labs manufacture the parts needed!
Thanks to him, I'm pleased to announced a
brand new
, completely
not the same as any other game you might have disliked
, version of
Robot Thief
! The Toon Council has agreed to put this one last game in, however they are pulling it out in an instant if you Toons don't enjoy it. Please send in any feedback you have about this game, as we will greatly improve it if it becomes popular.
November 10, 2013 [ttr-alpha-9c8b4ff]
Maintenance:
? Tons of new administrative features for us to "test" with. Please inform us if you see a staff member having too much fun!

Bugfixes:
? Fix a district reset when clicking "Bingo"
? Fix a bug where the Bingo reward would be listed as 0
? Fix a bug where previous spaces would be carried over to the next card
? Make Toons shout "BINGO!" when winning

Features:
? Update Whitelist to include even more community-suggested words
? Reworked more of SpeedChat based on community suggestions
? Completely redo "Robot Thief" to improve gameplay.


Hopefully you find it more fun than the original! If you like it, we will be making many improvements to the game in the coming days. If you don't, we will put the original "Robot Thief" back in. Please remember that it is only experimental, not a finished game.
---
Comments
Sorry! Comments are closed.
---
---
---
---
---
---
---
---
---
---
---
---
---
---
---
---
---
---
---
---
---
---
---
---
---
---
---
---
---
---
---
---
---
---
---
---
---
---
---
---
---
---
---
---
---
---
---
---
---
---
---
---
---
---
---
---
---
---
---
---
---
---
---
---
---
---
---
---
---
---
---
---
---
---
---
---
---
---
---
---
---
---
---
---
Back To Top