More News
Daily Alpha Update: The Sign Painter
Posted by Sir Max on January 22, 2014 at 2:00 PM
Whew. Man am I tired. I just put in a 12 hour shift to another one of those darn community service things. The Brrrgh just can't get over the ice rink incident. You know what I can't get over -- Why can't they just freeze another pond? With a blizzard going on every hour of the day, you'd think they would have an infinite supply of ice rinks.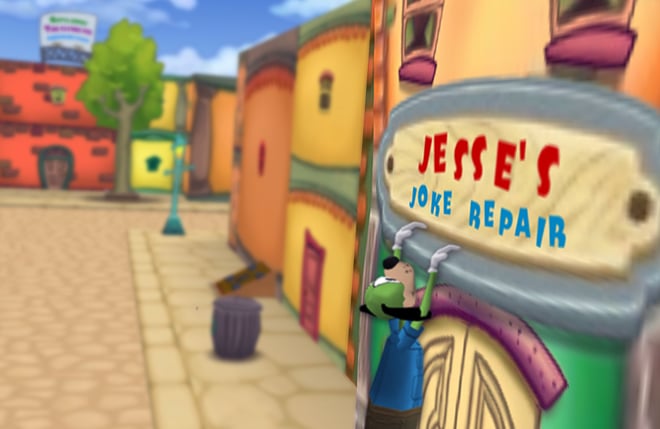 No matter. I suppose it wasn't all that bad, because I'm sure you guys are going to like what those community service hours went into:
Signs!
Move over Toon T.A.G.S. -- we can now read the building name straight off of some words above the door. If that isn't a clear sign (Or perhaps, unclear?) of living in the future, I don't know what is.
You know what I noticed while on my sign painting route? Furniture. Lots of furniture, to be exact. Those shopkeepers have furniture all over their stores, while our houses are completely barren.
Pffft!
Not one of them is a furniture store, either! Luckily, I've heard that Clarabelle Cow moved into town recently and has been setting up her own home delivery shop. She doesn't have much to compete with due to the lack of furniture stores, so I'm sure she'll be getting a lot of business.
...You know, she is going to be getting quite a lot of Jellybean profit... I'm going to have to end this post early, folks. I need to go see Clarabelle about a bit of a partnership of sorts. Yes -- "Max and Clara's Cattlelog" -- I can see it now. I'll catch up with you guys later!
January 22, 2014 [ttr-alpha-gf223ff6]
Tweaks:
• Temporarily changed some sign fonts from "ImpressBT" to "Humanism" until an issue is worked out with it.

Features:
• Painted all empty signs in Toontown -- both streets and buildings.

---
Comments
Sorry! Comments are closed.
---
---
---
---
---
---
---
---
---
---
---
---
---
---
---
---
---
---
---
---
---
---
---
---
---
---
---
---
---
---
---
---
---
---
---
---
---
---
---
---
---
---
---
---
---
---
---
---
---
---
---
---
---
---
---
---
---
---
---
---
---
---
---
---
---
---
---
---
---
---
---
---
---
---
---
---
---
---
---
---
---
---
---
---
---
---
---
Back To Top