More News
Holly's Happy Holiday Hobnob
Posted by Holly Daze on December 21, 2022 at 2:00 PM
Eeeooo, Toons of Toontown! That's right: I, Holly Daze, the most popular and famous reindeer of them all, am back in town! Sorry that I couldn't bring the rest of the crew with me -- Prancer and Comet were helping Cupid with some errands, and Dasher and Vixen were on vacation.
SantaToon has been working around the clock to get gifts ready for all the good Toons of the world. From toy cars to new shirts, laurel wreaths, and cookie bars, everyone on the nice list will surely have their stockings stuffed with goodies and fireplaces burning brightly! That is, if I make it back to the North Pole on time. As tradition goes each year, I need help!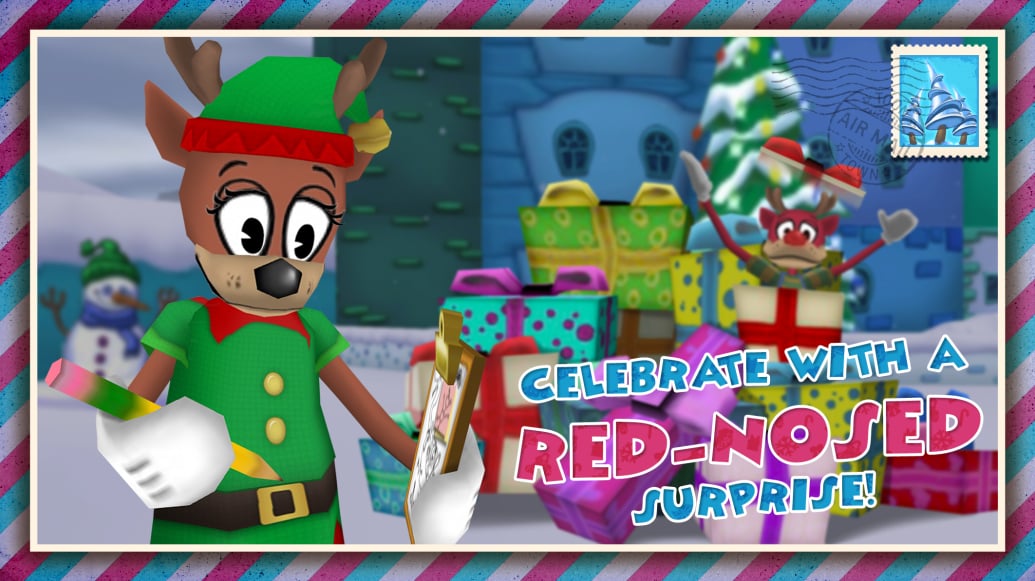 With all the other reindeer out of office and me being only one Toon, I have all of these gifts left to deliver, and I can't do it in time without a helping hand! That's where you come in, dear friends. If you're in the giving mood this holiday season and want to help a poor reindeer out, come visit me in The Brrrgh playground for a limited-time ToonTask and help your old pal Holly deliver these final gifts! If you help me get back home to deliver these presents, I'll give ya a festive holiday gift to keep spreading Christmas cheer.

If you happen to be a deer Toon, much like muah, chat with me after that and I can give you a special red nose reward that will truly light up the room you're in! No one noses a cool party trick like I do!
No one, except maybe the elves back home -- which is exactly why I've prepared the Shticker Book codes on-the-shelf and coming-to-town to bring our elfish festivities to Toontown! You have until December 30th to redeem these codes in your Shticker Book for an elfish Elf outfit and a jolly SantaToon suit.
While the codes end the 30th, I'll only be in The Brrrgh until December 24th (if SantaToon picks me up in his sleigh on time!). Stop by, because I'd love to see all of you, and I know you'd all love to see the one and only Holly Daze -- and help me get home, obviously. Until then...
Happy Holidays, Toontown! And don't forget to help me deliver these presents!!!
---
Comments
Sorry! Comments are closed.
---
---
---
---
---
---
---
---
---
---
---
---
---
Back To Top