More News
Walking In A Winter Polar-Land
Posted by Paula Behr on December 24, 2022 at 2:00 PM
Ho, ho, ho! Don't you just love the holidays, Toons? Yessir, we Polar Bears sure do enjoy our winter festivities, and what better way to celebrate than to spread the holiday cheer from my cold, cold home?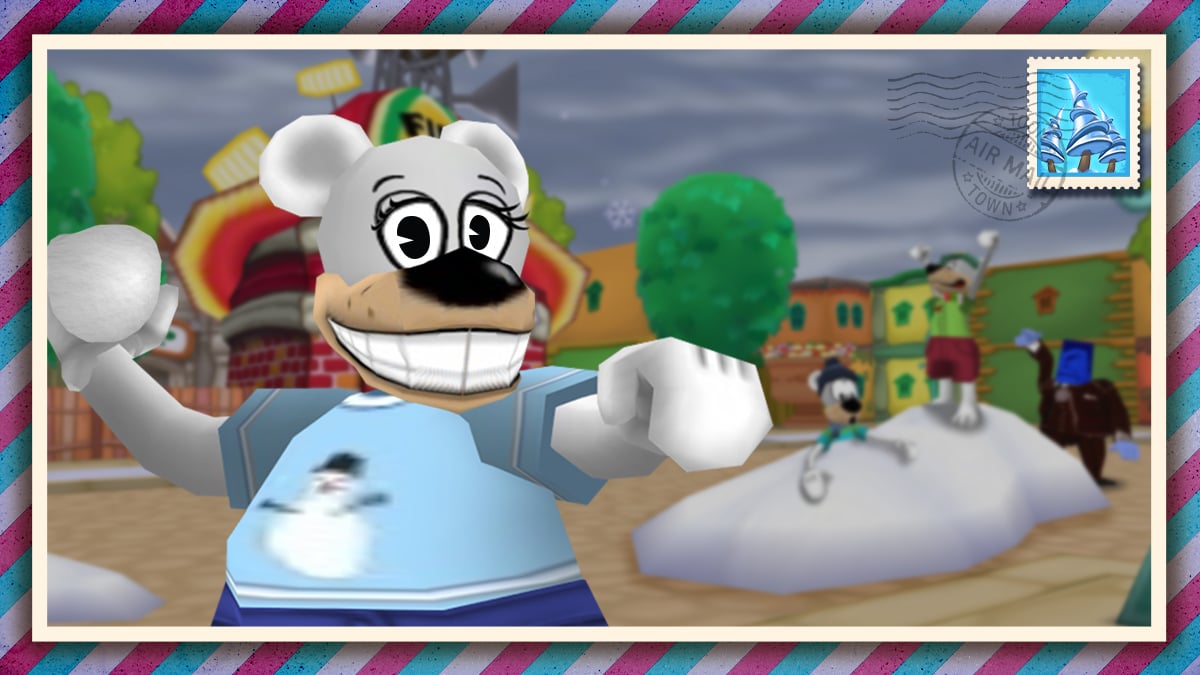 Once upon a time on one silent night, I walked all the way down to Tutorial Terrace in my sleep! Others would call it a mistake, but I called it a golden opportunity. I greeted all the new bears in town with an offer of turning them into Polar Bears as white as snow! And it matches every outfit! I thought that would've been a one-time experience, but Flippy asked me that I personally grant bears the color of the snow every winter holiday! How could I not accept such a holly, jolly job? As is tradition for any new bear residents, from the 24th to the 26th, you can come to say "Howdy!" to me on Tutorial Terrace if you want to become a Polar Bear.

But why stop at just incoming Toons? For all you existing bears out there, come stop by my shop Hibernation Vacation on Polar Place, I've got just the ToonTask to turn you into a Polar Bear as well. The color can either be a temporary or permanent change, but the temporary option will only last until December 26th, so pick your preference!
And of course, let's not forget the non-bear Toons out there! It took some guts from the Toon Resistance, but they were able to snatch some Invasion Summons straight from Lawbot HQ. Complete the ToonTask and you'll receive a quite cool Cold Caller Cog Summons! It usually takes a Lawbot Disguise to get your gloves on one of these, but this task earns you one in a breeze.
That's all I have to offer for now, Toons! Don't forget to roast some chestnuts, deck some halls, and move to The Brrrgh if you find your home becoming too warm to live in! A Polar Bear's greatest weakness… Merry Christmas to all those who celebrate, and a very Happy Holidays to all! Enjoy the festivities, everyone!!
---
Note from the Toontown Rewritten Team: We will not have a Christmas post tomorrow due to the storm that has swept across the United States affecting power. We want to wish everyone a very warm holiday season, and we will return next week!
December 24, 2022 [ttr-live-v3.6.3]
Polar Bear Blizzard
• Paula Behr is now allowing all bear Toons to become Polar Bears!
• From December 24th 'til December 26th, Paula Behr is offering an all-new ToonTask inside at Hibernation Vacations on Polar Place.
• If you're a bear Toon, this ToonTask will reward you a snow-white coat of fur -- with your choice of temporary or permanent color.
• Whether you're a bear Toon or not, this ToonTask also awards a Cold Caller Cog Summons. Chilly!
• Note that brand-new bear Toons still have the option to speak to Paula Behr in the Toontorial.
• Additionally, even if you're not a bear Toon, you can still say "Howdy!" to Paula Behr if you'd like to join the Winter Polar-Land fun -- if you don't mind losing your current Cheesy Effect!

Toontown Dictionary
• Added tons of requested words to the Toontown Dictionary -- you can check them all out at toon.town/363dictionary! Less mrow, more wrow!

Performance
• Significantly reduced memory usage in areas with roaming Cogs. Toons with older systems should see better performance!

Bugs 'n Blunders
• Corrected a long-standing issue where throwables, such as snowballs, could lock Toons out of using Animations.
• Fixed a MacOS crash upon pasting text into the game if non-text data had been copied to the clipboard.
• Addressed a softlock on MacOS caused by using SpeedChat+ in the Options Menu.
• Fixed a crash upon starting the game if you had invalid keybinds configured.
• Patched up several client crashes in Boarding Groups and Cog Boss battles.
• Fixed some client crashes in full Toon Parties.
• Picking a random Doodle name should now be properly random.

---
Comments
Sorry! Comments are closed.
---
---
---
---
---
---
---
---
---
---
---
---
Back To Top