More News
Toontown Member Mailers Return!
Posted by The Toontown Team on December 15, 2022 at 2:30 PM
It's a bird! It's a plane! It can navigate the complexities of the postal system in a single bound! Returning to your mailboxes with all the fanfare of a chorus of Opera Singers, it's none other than Toontown Member Mailers!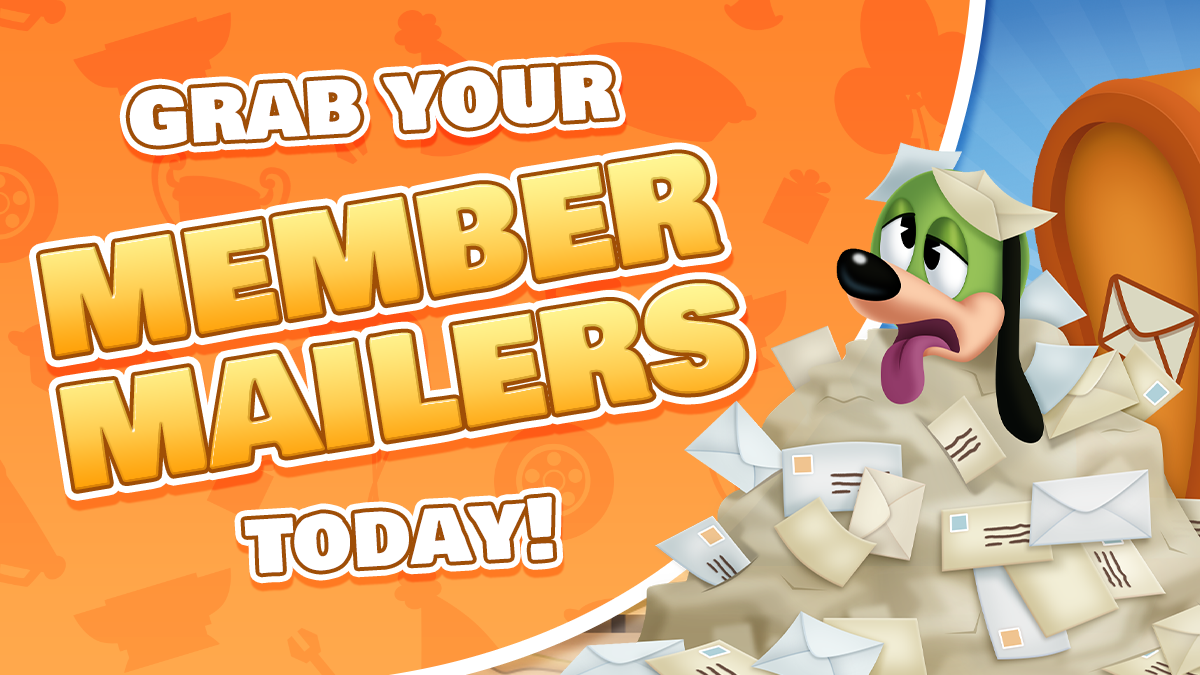 If you've ever wanted to get your ungloved hands on a piece of the Tooniverse, this post is for you. Toontown Member Mailers are back, and if you celebrated ToonFest at Home with us, then you may have seen these new trading cards when they were first revealed! Each Member Mailer will contain trading cards for Tutorial Tom, the High Dive, and the C.J. as well as a Toontown postcard with a message from Flippy himself. With prices set at limbo-winning lows (FREE!) you won't want to miss out on bringing home these new Toontastic pieces of art.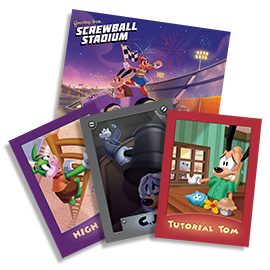 As a part of celebrating ToonFest, our gobsmackingly talented Brand Artists create exciting new merchandise to be given away to attendees. While we haven't been able to meet with you all in recent years, merchandise was still created, and we want to share it with you! All we ask is that you send an envelope and a stamp. Click on the image above to read step-by-step instructions on how you can get your Member Mailer.
You can also use your Member Mailer request envelope to send a letter or some fan art to the Toontown Rewritten Team! Send us something cool -- and you might just see it posted on our website or social media pages. (Don't forget to attach your Toon name so we can give credit where it's due.)
---
But wait, there's more!
Believe it or not, that's not all the trading card excitement this post has in store for you. We're going to be making new trading cards, and we want YOU to help us choose one of them! Last week we posted on social media and asked: What would you like to see for future trading cards? You all had great ideas and we've selected four of them for you to vote on RIGHT NOW! Put your helmets on, folks, because if you keep scrolling down you'll run right into poll where you can choose to vote for one of the following trading card possibilities:
Playground Treasures
You see them everyday. In every Playground in Toontown, mysterious objects of Laffter hover, waiting to be picked up by you and your fellow Toons. Wouldn't it be fun to know more about them? To answer questions we've never thought to ask? If you think it's time to start asking the REAL questions – or at least the ones we can dream up – about Playground treasures, you may want to vote for this trading card!
The Clouds
Present on every Toon's map of Toontown, the clouds are a curiosity to every Toon explorer. The questions they leave us with plague all of us. Wouldn't you like to get a bunch of clouds in a room, sit them down, and hear their life stories? If you think it's high time we got a bird's-eye view on this whole cloud situation, you may want to vote for this trading card!
The Silly Meter
One of the greatest inventions to ever come out of Loony Labs, the Silly Meter is an astonishing creation with quite the story to tell. A beloved part of our daily lives in Toontown, it's only fitting that it would become a part of our trading card series. Or at least, that's what you may think if you vote for this option!
Toontanic
The final gag of the Drop track has a lot to say. Though most of what it says is an earth-shattering, gut-rumbling CRASH. But aren't you curious what else there is to know about the Drop Gag Track's most powerful asset? If you are committed to shining light on the mysteries sunk at the bottom of the sea, you may want to vote for this trading card!
Which trading card would you like to see in the future?
Poll ends on: December 22, 2022 at 12:00 AM
So please – go vote for what YOU want to see as a future Toontown Trading Card. The last day to vote in the poll will be December 21st.
We're happy to celebrate this winter holiday with new out-of-Tooniverse merchandise, but we're also keeping up the in-Tooniverse hijinks! Things are about to get decorated. Starting December 16th, snowfall, winter decorations, and winter caroling begin.
---
Whew! That was a Lot!
We crammed a lot into those paragraphs, so here's the short of it:

Click Here to learn more about the Toontown Member Mailer program, and don't forget to ask a parent before participating. Enjoy!
Vote for a new trading card design in the latest community poll!
Log into Toontown starting tomorrow to enjoy the in-game winter festivities!
---
Comments
Sorry! Comments are closed.
---
---
---
---
---
Back To Top