More News
Partner Spotlight: ATTA
Posted by The Toontown Team on June 13, 2021 at 2:00 PM
If you've been around the Toontown community for long, you've likely heard of a group called ATTA, which is short for Adult Toontown Addicts. If you haven't heard of them, you've probably at least seen members of their group running around Toontown. With creative names featuring "ATTA" like W'atta Dancing Queen, Atta Smile, and U. Atta Beme, they can be hard to miss. As one of the largest and longest-standing Toontown communities still alive, ATTA has a rich history that we couldn't wait to hear more about. We met up with almost a dozen of their leaders to find out what makes ATTA tick. For the full interview, read on!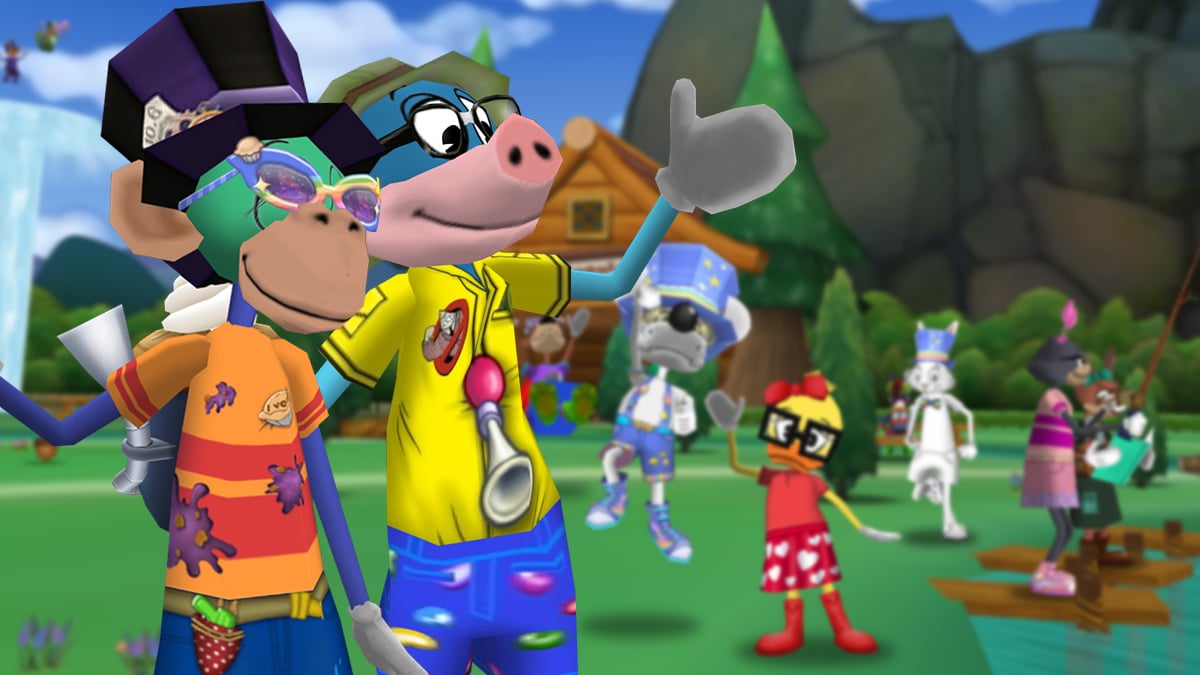 We'll start with a nice and easy question: how would you describe ATTA to someone who's never heard of your group?
We're a Facebook group for Toontown Rewritten players who are 18+ years old. We offer hosted runs and special events in a private group where you can share your in-game silliness, along with questions, answers, and information about game updates. It's also a place you can get to know the person behind the Toon, if you want, or stay anonymous. While you have to be 18 or older to join our group, we also host many open runs for members of all ages that are shared in our sub-group, Epic Toontown Marquee, which we created years ago for our kids and grandkids.
That sounds fantastic, and I'm sure you guys have all sorts of fun together. It gets me thinking though, how exactly did ATTA begin? Let's have Cherie, the founder of ATTA, answer that for us.
It began as a simple idea after a night of laughter while playing Toontown with two of my adult friends. I remember laughing so hard I was crying, and then I said to them, "This was so much fun! We need more adult friends!" And then a light bulb went off. I thought, "What if there ARE other adults to play with out there!?!?" That was it: the spark that started it all. But that spark was merely a catalyst. The true life of ATTA lies in the people. In the beginning, those founding members brought their hearts, their craziness, their enthusiasm, and they poured it into ATTA. They helped me do everything from make up that awesome name, create and host new events, and drag new people into the madness. As we grew, we found new friends and invented new ways to have fun in Toontown. We laughed together, cried in the dark moments together, celebrated life events together… ATTA became more than just a bunch of people playing a game together. Christina and Eric took over ATTA in February of 2014 and proceeded to bring ATTA to Toontown Rewritten with the help of some amazing council members and hosts, who all share ATTA's vision for a fun, supportive, and safe community.
That's an awesome story -- really heartwarming. So you said the hosts of ATTA like to plan fun events for everyone to take part in. Could one of you elaborate on the kinds of fun activities you like to plan together?
Weekly Beanfests, Boss Cog runs, promotion runs, Building Busters, Doodle trainings, SOS shopping, Music and Mayhem, racing, golfing, Last Toon Standing, retro VPs, VP and CFO races, Battle of the Species, Easter Egg hunts, Polar Plunges, tournaments, and anything else our hosts can come up with! Many of our hosted runs and events are open to players of all ages.
Wow! I never knew there were so many different events held in Toontown. It's amazing that you've been able to come up with such a huge variety of creative games, activities, and competitions to spice things up. It sounds like some of those activities include battling the Cog Bosses! Which of the four Cog Bosses is your favorite to take on, and why?
Brenda: I like them all, but my favorite is CJ where teamwork is what makes this a fast and easy run. Love being able to call invasions, Cogs and buildings for others. Chris: CEO is my all time favorite because I feel I have better control in CEOs than in VPs or CFOs where we're reliant on VP stunners & CFO craners. I also love that FIRES are the one gag type that never misses!

Deanna: Oh, it's difficult to choose! My favorite would have to be CFO because I enjoy crunching and tossing goons. Unites are fun, too. Elma: Favorite boss is CFO, I could easily just do that over and over. I however host a CEO with 2 awesome co-hosts and we have built a great base of regulars that come to that run again and again for the last 3 years so that might be my favorite run.

Eric: Honestly? I love them all. I know that's kind of a lame answer, but it's true. I used to despise CJ, though and over the last year or so I have come to really enjoy it. Especially since I have finally mastered stunning.

Heather: Well, I have two top favorites. VP is one because it's the first boss that a Toon can go to and two I love to do shopping. My other one is CJ because of the rewards that it gives and doing it with friends that make it fun.
Sounds like you've got lots of different opinions among your group! It's been fantastic talking with and getting to know all of you, and I think we've got room for one last question. It's clear to me that you all love what you do, but what are your favorite parts of being members and leaders of ATTA?
Carol: When I joined ATTA, I was amazed by all of the runs. Being Brazilian and unable to speak or understand English, it was amazing how accepted I felt. My favorite thing is to give back, to help others to feel accepted like I was.

Jenny: My absolute favorite thing about ATTA is the amazing community we have. I have met people that have become my family thanks to TTR and ATTA. I have friends all around the world– even though we are far apart, we cry together, laugh together, celebrate victories, and mourn losses. Being a part of the leadership team gives me the opportunity to give back to the community that has become such a large part of my life.

Jon: As a member of ATTA, I like the helpfulness of the other members if and when needed. As for the leadership portion, I can't say; I just make posters and videos when crazy ideas come from my one brain cell.

Suzie: Meeting and making friends with people all over the world. Helping people with questions or helping with their first boss run when they are scared to do the boss.

Will: The best part of being a member is getting to help other folks. There's always someone who's trying to figure out the best way to catch those last few fish – or find the 'Just for Fun' task they want – or even just needs a little help polishing off those last few 5 story Cog Buildings. The best part of being a leader is giving back some time and energy to a really great organization that helps bring fun to a lot of people.

I'm so happy to hear about these awesome things that you've experienced with your time in ATTA! It's clear to us how important ATTA is to every single one of you, and it's amazing to see that love being given back to the community. Thank you to ATTA for taking the time for today's Partner Spotlight, and for anyone interested in joining the fun, click the button below!
---

Disclaimer
Facebook's Terms of Service require you to be at least 13 years of age and the minimum age of digital consent in your country to use their platform. Toontown Rewritten is not responsible for this Facebook group nor for Facebook as a platform. Furthermore, Toontown Rewritten has no control over what content is posted or shared. As this Facebook group is run by a Toontown Rewritten Community Partner, though, we can ensure that any content in this group is PG-13. Additionally, to join ATTA, you must be at least 18 years of age.
---
Comments
Sorry! Comments are closed.
---
---
---
---
---
---
---
---
---
---
---
---
Back To Top