More News
Introducing the Toontown Preservation Project
Posted by The Toontown Team on June 2, 2021 at 2:00 PM
Get out the TNT-filled party poppers! Grab a slice of Birthday Cake! It's Toontown's 18th Birthday, and we have big things in store for today's celebration. As of today, we're officially launching the largest archive of never-before-seen Toontown Online history to date: The Toontown Preservation Project!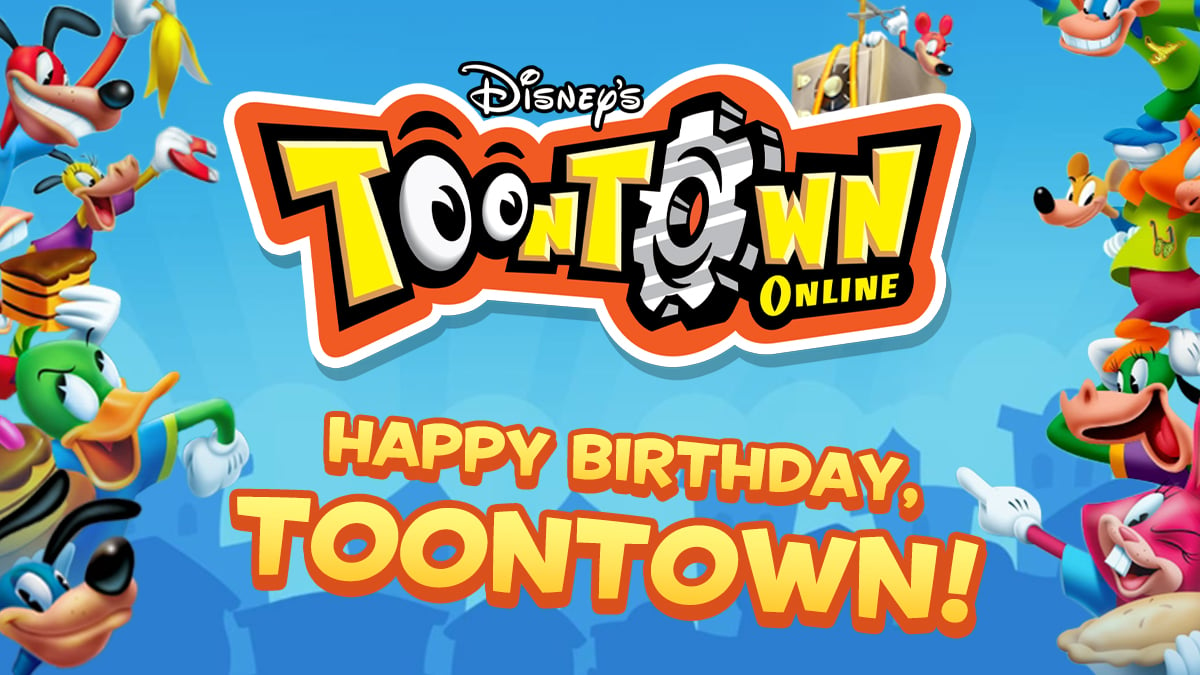 I'm Brad from the Toontown Team, and I'm one of the curators of this new project. My official jobs for Toontown may be Creative Writer and Social Media Specialist, but I tend to end up working on a whole mess of other things too. Today, I'm here talk about what the Toontown Preservation Project is, and how you can help us with our efforts to keep every bit of Toontown alive!
In case it's not obvious -- Toontown Online is very important to me. This game introduced me to some of my greatest friends, and helped me through the toughest of times in my life. To say that this game helped shaped who I am as a person would be an understatement. Thus, I didn't hesitate for a moment to be a part of this special project to give back to the Toontown community in the same way it's given back to me.
We never want the memory of Toontown Online to fade away, which is a large part of our goal of running Toontown Rewritten. The in-game portions of Toontown Online are just one piece of this, though -- Toontown stretches far beyond the reaches of our screens, and we wanted to find a way to preserve every single piece of it forever, for free.
To that end, we've spent a long time figuring out the best way to put together a mini-site to preserve all of the bits of Toontown Online that we can't preserve with Toontown Rewritten alone. Without further ado, I present to you The Toontown Preservation Project!
---
What is the Toontown Preservation project?
Right! That's probably an important thing to tell you. The Toontown Preservation Project is a mini-site dedicated to archiving the history of all things Toontown Online that can't be achieved with Toontown Rewritten alone. On the website, you'll find a digital museum of Toontown's development history, promotional material, and more.
For most folks, you'll be most interested in just browsing the digital museum to see all of the neat things we have on display. If that's the case, simply go to toontown.online and browse away!
If you're interested in the archival process, or even have some Toontown history of your own that you'd like to contribute, keep reading onward for details.
---
Where did all of this come from?
All over the place! Many Toontown Team members have spent years digging up pieces of Toontown Online history to assist us with developing new content for Toontown Rewritten, and we've even had a few former Toontown Online developers send us donations of things they've kept around over the years.
For all of the physical material that we've collected, we pooled together funds to have everything professionally scanned by an archival service. This took a lot of time and money -- not to mention the effort to categorize it all afterwards -- but we wanted to make sure that this was all done properly before putting it out on the internet forever.
This museum isn't anywhere close to being complete, however. We're still digging around for artifacts of Toontown's history. Hopefully, we'll have even more content added in the future by Toons like YOU!
---
How can I help?
I'm glad you asked! If you have official Toontown Online material that we haven't yet preserved, we would love to hear from you so that we can put it on display for the whole Toontown community!
The easiest way to contribute is by emailing us at support@toontownrewritten.com. In your email, we just ask that you provide three things for us:
Where your contribution came from
A high quality photo or scan of your contribution
How you'd like to be attributed on the Preservation Project website
Once everything is in order and we have a chance to review your submission, we'll host your contributions as soon as possible! Due to high volume, as well our limited volunteer hours that must be shared with other Toontown Rewritten projects, it may take several weeks for your submission to be posted.
---
Where can I view all of this?
Take a portable hole over to toontown.online! This serves as our separate mini-site that we'll be hosting for free as a community resource. Once there, be sure to read some of the Toon Tips on our home page to most easily browse the site.
---
With that, we hope that you enjoy everything that we've collected in the Toontown Preservation Project! Of course, we hope that this archive will keep growing with your help. Check back often to see what's new, and let us know about your favorite things on display in the comments.
Happy Birthday, Toontown!
---
Comments
Sorry! Comments are closed.
---
---
---
---
---
---
---
---
---
---
---
---
---
---
---
---
---
---
---
---
---
---
---
---
---
---
---
---
---
---
---
---
---
---
---
---
Back To Top