More News
Cold Hard Cash | Backstage Toontown
Posted by The Toontown Team on August 23, 2019 at 3:30 PM
Welcome to the third and final Backstage Post this week for Sellbot Field Offices! Today, we'll be talking about the all new mini-game, the Cold Caller Office. Much like Mover & Shakers, Cold Callers are finally having a place to call home. As seen by their name and Ice Blue faces, Cold Callers like it to be very cold in the workplace.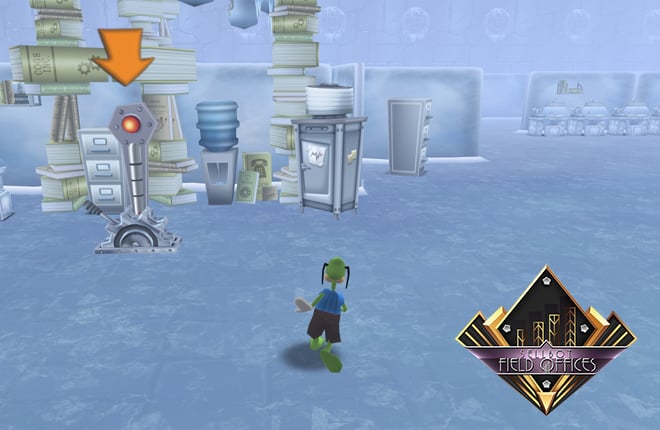 Once again, everything written here is subject to change. We're conducting loads of internal playtests -- not to mention listening to the community's feedback! Don't be surprised if a feature outlined here is majorly reworked or outright scrapped when Sellbot Field Offices hit the streets. Above all, our goal is to deliver on the most fun and challenging experience possible!
---
What is the Cold Caller Office?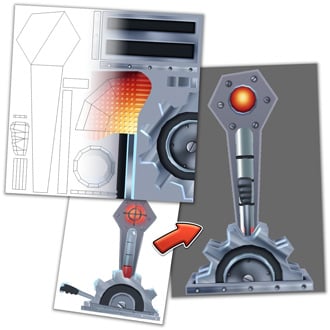 The Cold Caller Office is an entirely new mini-game built from the ground up by the Toontown Rewritten development team! Cold Callers, doing what they do best, are trying to Cold Call as many unsuspecting phones as they can. Nobody likes getting Cold Called, even in Cog Nation. We Toons, of course, will have none of that. You and your friends can skate around the office space, cause mayhem, and turn up the heat! Of course, you'll need to heat up the room if you want to escape with your Laff points. The elevator is frozen over, and it's the only way to the next floor!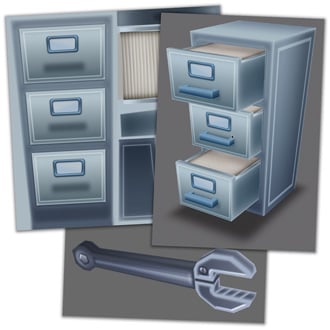 Each Cold Caller Office is equipped with multiple thermostats -- just skate by them to adjust the temperature. Once enough thermostats have been activated by Toons, the elevator will unfreeze and you'll be free to get out of there. That said, you won't be without opposition! Watch out, as the Cold Callers will be constantly resetting the thermostats around the room, hindering your progress. They can't Cold Call without the cold, of course.
Our main focus with the Cold Caller Office is to create a skill-based game where you can build up speed as you improve at dodging obstacles. The Cold Caller Offices are still in deep development, but we do have some images to show you from our super-secret internal testing. Check them out below!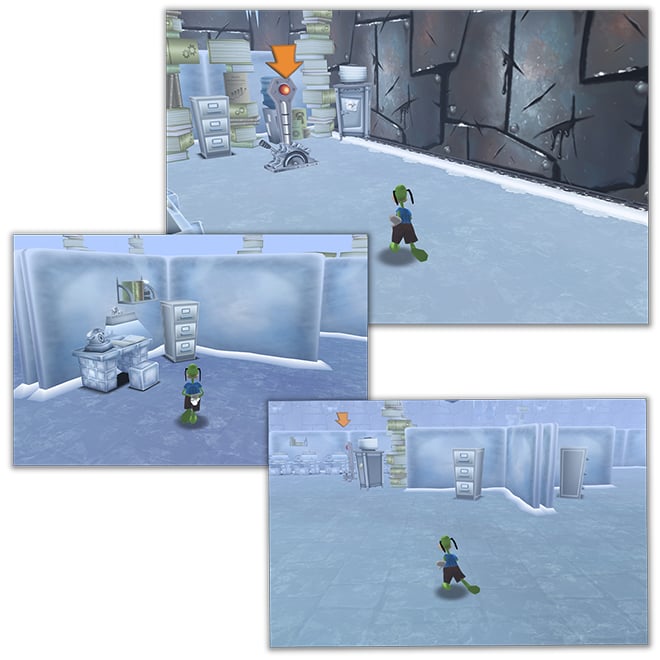 Matching the Original Vision
Many may not know this -- but the Cold Caller Office is not a new concept. Toontown Online's original developers had far grander plans for Field Offices, referred to as Cogdominiums internally at the time. Field Offices were at one point intended to feature unique offices for many types of Cogs! Some of you may know of the unreleased Legal Eagle Office from Toontown Online -- which was unfortunately one idea that was nearing completion but went unreleased due to budget cuts. Despite this, unused content remains discover-able on the internet to this day, mostly through portfolios and similar websites. This gives us the unique opportunity to fulfill the original vision of Toontown Online's developers -- finishing what they started nearly a decade ago.
When we decided to overhaul Field Offices entirely, we knew that realizing the original vision was of utmost importance. As it turns out, there was a fantastic piece of Cold Caller Office conceptual art uploaded to the internet -- the perfect reference. Using this image as a guide, we began work on our own ideas to enhance the base idea while also remaining faithful to what we believe Disney's developers originally intended. Keeping our new content to the quality that was seen under Disney is extremely important -- which is also why it takes so long for us to release new content to the game.
Paving the Way Forward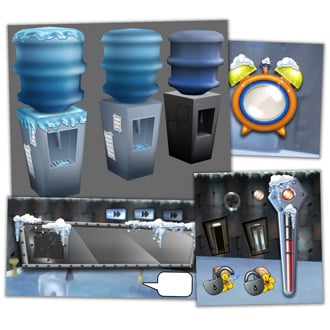 Sticking to the original developers' intentions hasn't held us back from adding new ideas of our own, though. In many cases, we'll have an idea for a new idea that has no prior references from Toontown Online. As seen in the accompanying images, we've done new content ranging from icy re-textures of existing props to all-new GUI elements designed for the Cold Caller Office. Each detail may seem small, but when placed together they add up into a truly... cold experience. We really wanted to sell off the idea of a Cold Caller's office, and we think we're on the right track!
---
Once again, we want to hear YOUR feedback on what we're doing with Sellbot Field Offices. The best way to deliver that feedback is to send an email to support@toontownrewritten.com -- they'll get your feedback along to the developers as fast as possible! While we can't respond to every single piece of feedback, we do read all of them. With your help, Sellbot Field Offices will be the best update we've ever created!
With that, we've finished our three-part series on Sellbot Field Offices for this week. That doesn't mean we're done though! We're committed to communicating to the players about what we're working on more often. Look out for #BackstageToontown on Twitter -- where our artists will post their progress from time to time! As usual, you should also keep your eyes peeled on the Toontown Blog and follow us on Social Media so you don't miss any of the latest news.
---
Comments
Sorry! Comments are closed.
---
---
---
---
---
---
---
---
---
---
---
---
---
---
---
---
---
---
---
---
---
---
---
---
---
---
---
---
---
---
---
---
---
---
---
---
---
---
---
---
---
---
---
---
---
---
Back To Top