More News
Remotes and a Resistance Hideout | Backstage Toontown
Posted by The Toontown Team on August 21, 2019 at 2:00 PM
Welcome to the second part of our Backstage Toontown series on the development of Sellbot Field Offices. Today, we'll be talking about two features that are far earlier in development than everything else we'll be showing you. The upside to this is that we can implement player feedback far more easily, and involve YOU with the development process more closely.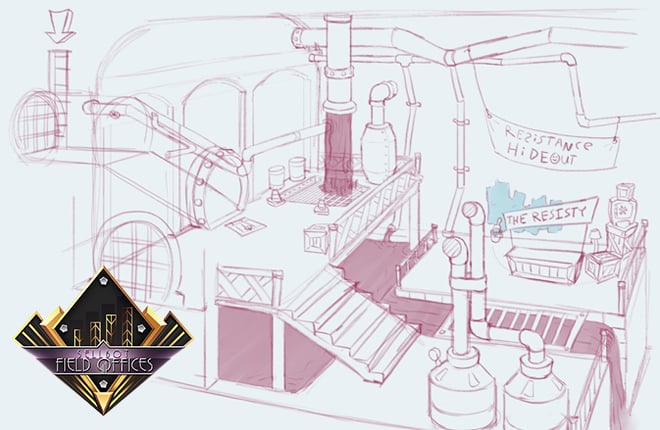 The two features we're showing today are both rewards that Toons will receive for fighting back against the Sellbot Field Offices. Why are there two unique rewards related to Sellbot Field Offices? Read on to learn more.
Once again, everything written here is subject to change. We're conducting loads of internal playtests -- not to mention listening to the community's feedback! Don't be surprised if a feature outlined here is majorly reworked or outright scrapped when Sellbot Field Offices hit the streets. Above all, our goal is to deliver on the most fun and challenging experience possible!
---
What do I Win?
Many have heard that there's more Laff points coming soon, and we want to integrate it with release of Sellbot Field Offices. After completing your Bossbot disguise, you'll get a brand-new Storyline ToonTask from Toon HQ! The Toon Resistance have heard about your Cog-busting ability -- and they need YOU to help their cause. It only took 100 or so Laff points for them to recognize your skills, after all.
Through the secret channels of the Rangers, you'll be given a rank in the Sellbot Division of the Toon Resistance's operations. You'll still need to prove yourself by defeating Field Offices and increasing your Resistance Rank, but eventually you'll gain access to the most secret of hideouts that the Toon Resistance has to offer. Where might this hideout be? In enemy territory, of course.
For years, there have been unassuming manholes in the main area of all four Cog HQs. With the release of Sellbot Field Offices, you'll be able to explore what's under Sellbot HQ -- the Sellbot Sewers. The Toon Resistance has secretly set up shop down there, ready to take down the Cog threat from right under their noses. It's the perfect plan, right?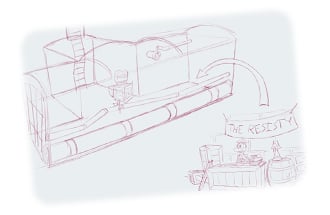 Once you gain access, you'll be able to take on special Toon Resistance ToonTasks to help the cause. Right now, this feature is still in the conceptual stage. Because this feature is in such an early state, we want as much feedback on it as possible. What do YOU think the Sellbot Sewers should be? We've done many sketches and tossed around tons of ideas, but the area is in an early enough state that we can really go anywhere with it. The Resistance Hideout is going to be one of the most exclusive areas in Toontown history, so we want it to be the best it can be!
Introducing the Cog Remote Control
New ToonTasks aren't the only reward from the Sellbot Field Offices -- There's a very special reward for completing each Annex. Introducing: the Cog Remote Control! Unlike past boss rewards, the Remote Control has a unique twist. Instead of relying on random chance, player input will be required to make it as effective as possible. A small micro-game will play out, and upon a successful game a single Cog will be taken by the remote. But what can controlled Cogs do? We've got some ideas below:
Give Toons a Toon-Up by telling a joke.
Perform a Cog-ified dance, stunning other Cogs in the battle.
Interfere with the other Cogs, causing damage to every Cog in the battle.
Any of YOUR ideas!
The main mechanic we want to play with using the Cog Remote Control is the idea of increasing the importance of keeping a Cog alive. If you intentionally keep one Cog under control, it can make the battle against the other three that much easier! As with the Resistance Hideout, the Cog Remote Control is a very early concept. Once again, we would love to hear your feedback.
---
Once again, we want to hear YOUR feedback on what we're doing with Sellbot Field Offices. The best way to deliver that feedback is to send an email to support@toontownrewritten.com -- they'll get your feedback along to the developers as fast as possible! While we can't respond to every single piece of feedback, we do read all of them. With your help, Sellbot Field Offices will be the best update we've ever created!
We hope you're just as excited as we are about Sellbot Field Offices and Backstage Toontown, and we can't wait to share even more information with you. One more Sellbot Field Offices related post is coming to Backstage Toontown on Friday -- and we're ending this week with a blizzard. Keep your eyes peeled on the Toontown Blog and follow us on Social Media so you don't miss it!
---
Comments
Sorry! Comments are closed.
---
---
---
---
---
---
---
---
---
---
---
---
---
---
---
---
---
---
---
---
---
---
---
---
---
---
---
---
---
---
---
---
---
---
---
---
---
---
---
---
---
---
---
---
---
---
---
---
---
---
---
---
---
Back To Top