More News
What's Under the Cloud?
Posted by Hysterical Harry on August 26, 2019 at 2:00 PM
Help!!! Help!!! Can't somebody help me pass on my real, proven theories? I'm telling you, there's more than meets the eye going around here in Toontown. QUICK, LOOK UP IN THE SKY!!! Don't you see it? It's that big, ginormous CLOUD!!!!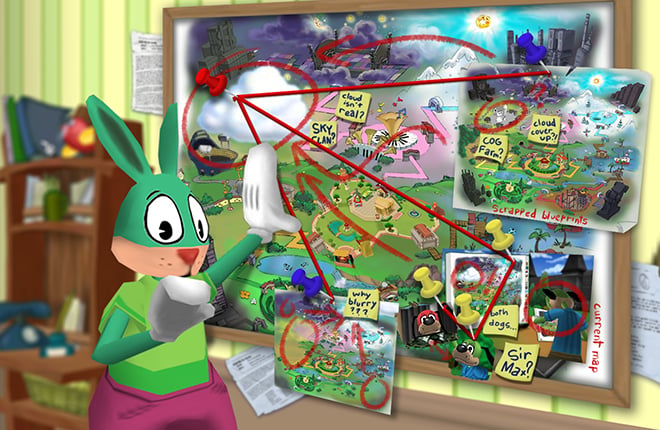 Don't look at me like I'm insane. I'm only hysterical! Don't you see those Cogs peering through the window? No? You're not one of them, are you? Feh, you seem Toon Enough to me.
The point I'm trying to make is simple -- the Toon Council is clearly trying to cover something up with this cloud on the Map!!! Just look at my pin board: Everything is connected, the pieces are coming together!!!
The Toon Council says that they'll be building a new Playground under the cloud one day, but I don't buy it for a moment. Just look at those original blueprints for the town that I saved from the Toon Hall's dumpster!!! So crisp, so clean, so different.
All of these dots connect!!! There never was a cloud to begin with; it was all a ruse. Under the cloud? It's a Cog Farm, of course!!! That's where the Cogs are being made, right next to the taco plants. You haven't seen anywhere else that Cogs might come from, have you? No, no, don't tell me about those silly Cog Headquarters conspiracy theories. If that were real, Judge McIntosh wouldn't keep sending Toons to look for it!
The worst part is that the Toon Council is already onto my suspicions. Soon, there will be new, high quality Toontown maps in every Shticker Book!!! But what you didn't realize is that these new maps are rigged. Rigged I tell you, rigged!!! All this extra detail, and yet there's nothing about what's behind that cloud. Coincidence? I think not!!!
Wait, where are you going? You better not be calling Doctor Pulyurleg like the rest of them. I am a perfectly sane individual!!!
---
P.S. - Toontown is full of conspiracies!!! Use these images to find your own and tag me with #HystericalHarry. See, I'm not the only hysterical one!!!
---
Comments
Sorry! Comments are closed.
---
---
---
---
---
---
---
---
---
---
---
---
---
---
---
---
---
---
---
---
---
---
---
---
---
---
---
---
---
---
---
---
---
---
---
---
---
---
---
---
---
---
---
---
---
---
---
---
---
---
---
---
---
---
---
---
---
---
---
---
---
---
---
---
---
---
---
---
---
---
---
Back To Top