More News
Gone Fission: Part Two
Posted by The Toontown Team on April 13, 2019 at 2:00 PM
Earlier this week, the conclusion of the two-part tale, Gone Fission, was revealed! By coming together and working as a team, the community's best puzzle solvers banded together and located the concluding chapter of this two-part comic which reveals why Doctor Surlee and the Fissiontons disappeared during the Silly Meter's first maxing.
Click on the image below to read the comic: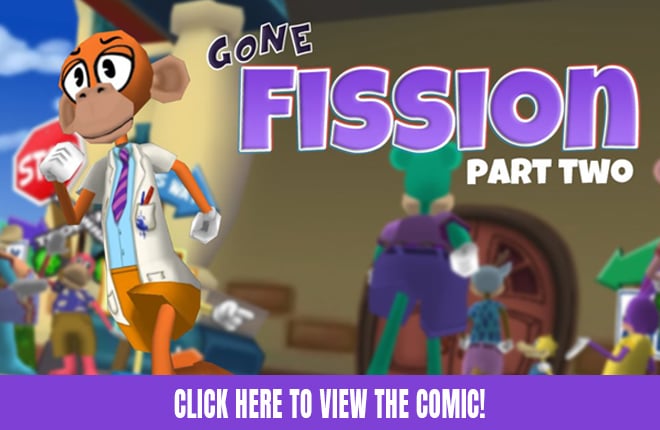 From scouring Loony Labs' terminals and finding a mysterious "Cogalogue" to reading Professor Purrview's classified memos, Toontown's ace puzzle-solving team of Toons identified five equations which revealed the final password: fliCKeR. Rather fitting, isn't it?
The Toontown Team had a lot of fun putting together these puzzles, and we hope you enjoyed working them out! If you would like to help with cracking the next puzzle, we recommend checking out some of the Toontown community fansites where players gather to talk about these things. If you're age 13 or older, we recommend checking out the Toontown Rewritten subreddit or joining the Toontown Rewritten Discord Server.
NOTE: These communities are not officially sponsored by Toontown Rewritten. We trust the moderators of these communities and know that they maintain a family friendly environment, but we do not manage either of them. Ask a parent before joining!
---
Comments
Sorry! Comments are closed.
---
---
---
---
---
---
---
---
---
---
---
---
---
---
---
---
---
---
---
---
---
---
---
---
---
---
---
---
---
---
---
---
---
---
---
---
---
---
---
---
---
---
---
---
Back To Top